IN THIS ISSUE

LIVING Videos
Things to Do in Lake Havasu
Lake Havasu City is one of the most popular vacation spots in Arizona. With our clear waters, desert sports, races and festivals, Lake Havasu City is a great place to stay and live.
Lake Havasu Restaurants
The Restaurants in Lake Havasu City range from favorite burger joints, micro-breweries and renowned chefs from all over the world. Read about our local favorites.
•••
There's nothing better than a finely crafted burger paired with an ice cold brewski.  A hamburger is just a hamburger, but when you carefully craft it[...]
Havasu Weather
Clear

Clear. Lows overnight in the mid 70s.

Clear

Sunny. High 101F. Winds light and variable.

Chance of a Thunderstorm

Showers early then scattered thunderstorms developing later in the day. High 94F. Winds WSW at 5 to 10 mph. Chance of rain 50%.

Partly Cloudy

Mostly cloudy skies early, then partly cloudy in the afternoon. High 92F. Winds E at 10 to 15 mph.

Partly Cloudy

Partly cloudy skies. High 87F. Winds ESE at 5 to 10 mph.

Chance of a Thunderstorm

Mixed clouds and sun with scattered thunderstorms. High 82F. Winds SE at 10 to 15 mph. Chance of rain 60%.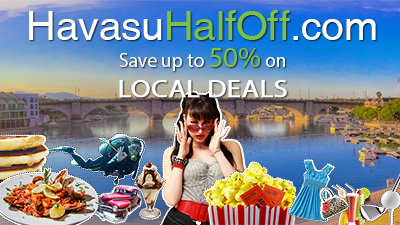 Havasu Gear Clothing

Videos Lake Havasu Advertising

Want powerful exposure for your business with a Lake Havasu LIVING Magazine ad? Learn how magazine advertising can grow your business!