BREAKFAST: The Most Important Meal of the Day…Can Also Be the Most Delicious Meal of the Day!
There's always something to do in Lake Havasu and we want to make sure we start the day out right…and that means sitting down to a spectacular breakfast! Here are a few of our favorite places along with some classic breakfasts.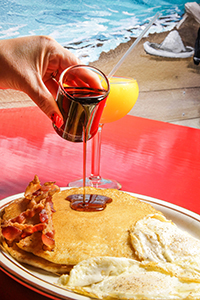 Bad Miguels
Enjoy a classic breakfast consisting of over-sized pancakes topped with maple syrup, crisp bacon, and two eggs prepared to your liking. A Mango margarita will provide the perfect zip to start the day and wash it all down. From American to Mexican, Bad Miguel's has a breakfast for you.
Bad Miguel's
1841 N. Kiowa Ave. #103
Lake Havasu City, AZ
928.680.0201
---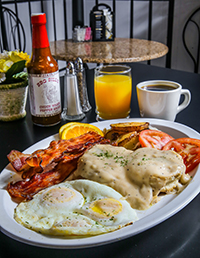 BBQ Bill's Big Easy Bistro
It's called the "Big Easy" breakfast, and it's plain to see that this meal will satisfy any breakfast fantasy. Served with your choice of bacon, ham, or sausage, the breakfast includes biscuits drenched in their homemade gravy, breakfast potatoes, and three large eggs made your way!  Hit it with some hot sauce and you'll have a classic New 'Awlins breakfast.
BBQ Bill's Big Easy Bistro
3557 Maricopa Ave.
Lake Havasu City, AZ.
928.680.1100
---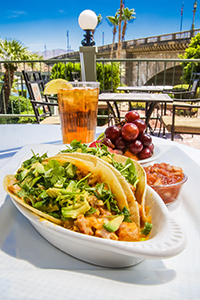 Makai Cafe
Can you think of a more relaxing way to start your day than a breakfast on the patio at Makai's with the London Bridge as your backdrop? Try their Breakfast Tacos made with a mix of sausage, bacon, scrambled eggs, and breakfast potatoes topped with their signature Spanish sauce and mixed jack and cheddar cheese. Topped with cilantro, green onions, and avocado. Served with your choice of side.
Makai Café
1425 N. McCulloch Blvd.
Lake Havasu City, AZ.
928.505.2233
---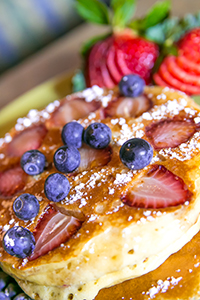 Juicy's
Call 'em what you want—flapjack, pancakes, hot cakes, or silver dollars—when you bite into these  homemade, full stacks of cakes, you'll call them berry delicious! As incredible as they look, they'll taste even better. Made with the fresh fruit of the day and available with toppings of your choice, you'll only find them at the "place with the great food—Juicy's, of course!"
Juicy's
42 S. Smoketree Ave.
Lake Havasu City, AZ
928.855.8429
---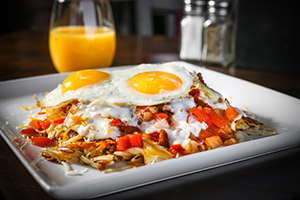 Jersey's Grill
Jersey's calls it their "Hot Mess", but take one bite and you'll know that they're not messin' around. They start with a heap of hash browns covered in their secret country gravy and mix with bacon, tomato, peppers, onions, and cheddar cheese. Top it all with two eggs and you'll have a breakfast that will keep you going throughout the day.
Jersey's Grill
2049 McCulloch Blvd.
Lake Havasu City, AZ.
928.680.3663

---