CHA BONES STEAKHOUSE & TAPAS BAR
An above par dining experience is rarely found, but when it is, surely there are a couple of very important components to guarantee satisfaction. Cha Bones, an exquisite restaurant here in Lake Havasu City, is among the top tier of dining establishments in all of Arizona. When it comes to the art of pairing unmatched customer service with quality cuisine, Cha Bones has it mastered.

Earning a Commercial Pride award in 2009 from the Keeping Havasu Beautiful Committee for Professional Building Design and Landscaping Beautification, it's no wonder the Moses family serves proudly a unique restaurant experience. Another notable achievement was in 2008, when Arizona Highways Magazine recognized them in their Best Restaurants in Arizona issue.
Family owned and operated, this contemporary art infused restaurant is as uniquely appealing to the eye, as it is palatable to the taste buds. Entering into the beautiful foyer of water sculptures, you are immediately greeted by warm sights, soothing sounds and appetizing aromas.
Let's talk food. As we stroll into the warm summer season, Cha Bones introduces to us a refreshing selection of seafood, along with an array of revitalizing menu items that remind us of their enticing prestige. If you feel like spoiling your tongue, order the Honey Glazed Salmon – a delectable fresh salmon fillet honey glazed and grilled to perfection served with your choice of basmati rice or vegetable of the day. Chef specials also are a daily innovation at Cha Bones; among the favorites you'll find the Grilled Mahi Mahi with pineapple salsa.
Should lunch be your visiting hour, try indulging in a savory lunchtime "BYOBB" (Build your own 'BONES Burger') made with 1/3 pound of their ground Angus Beef. Burgers are served with homemade potato chips and oriental cabbage salad. Out of the garden comes an array of tantalizing combinations such as their Baby Blue Spinach Salad – spinach, bleu cheese, pecans, baby tomatoes, red onions, mushrooms, and bacon with raspberry vinaigrette. Off the grill we found a BBQ combo – a half rack of their delicious BBQ ribs and a juicy chicken breast served with fries, potato chips or salad.
Cha Bones delivers an urban, chic, sophisticated cuisine and serves high quality hand-crafted steaks, pastas, seafood, salads, desserts and much more. The 40ft. crescent shaped bar brings a unique touch to the atmosphere where you can enjoy incredible tapas, martinis, frozen drinks, bottled beers, and wine. The minute you walk through the massive glass doors at Cha Bones, you will know you have arrived at a great restaurant that will keep you coming back again and again.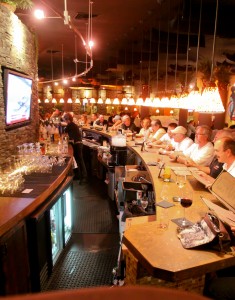 HOURS OF OPERATION: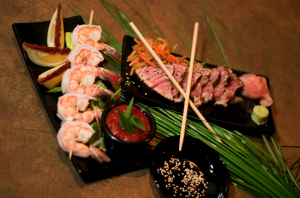 Winter Months: October – April
Sunday-Thursday 11am to 9pm
Friday & Saturday 11am to 10pm
Summer Months: May – September
Sunday-Thursday ~ 11am to 10pm
Friday & Saturday ~ 11am to 11pm
Bar Stays Open 1 Hour After Closure of Dining Room
RESERVATIONS:
Cha Bones does not accept reservations, but they do offer a "Call Ahead List"
Parties of 8 or More Can Call up to 24 Hours Ahead to be put on the List
Parties of 8 or Less Need Only Call 30 Minutes to 1 Hour Before their Planned Arrival
TAKE OUT: Yes, Full Menu
DRESS CODE: Casual to Dressy, but no Swim Suits without Cover
For this and more Exclusive Features from Lake Havasu LIVING Magazine, see our Spring/Summer 2012 issue! Available on racks locally and by subscription!