A Breath of Fresh Air
The weather is getting warmer, leading people to spend more time outdoors. If you want to get away, there is a place close to Lake Havasu that offers great activities and scenic views to give you a change of pace. Located in Kingman, and only a 45 minute drive from our beautiful lakeside town, is the Hualapai Mountains. With cooler temperatures and tall green trees, you'll think you've driven into a completely different world.
Whether you're looking to simply get away for the day or stay the night, there are accommodations and activities to make your stay enjoyable and entertaining. Hualapai Mountain Park offers cabins, tent and RV sites, complete with plug-ins. In fact, they are preparing to expand their RV sites to allow more visitors to enjoy the serenity of this peaceful area. You can also stay in one of their historic stone cabins built in 1936, complete with original hammered copper countertops and large stone fireplaces.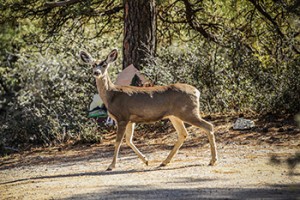 As you make your ascension and the foliage thickens, keep your eyes out for the critters that call the Hualapais home. There are over 100 species of birds, 12 species of reptiles, and 18 species of mammals to include the Acorn Woodpecker, Violet Green Swallow, Red Tailed Hawk, Arizona Black Rattlesnake, Western Chuckwalla, Tassel-Eared Squirrel, and bobcat. Although they aren't seen often, there are also Mountain Lions and Western Arizona Black Bears that wander the vast expanse of rocky, wooded terrain.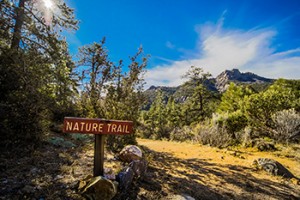 To really appreciate the beauty of the mountains, check out the many trails and lookouts around the park. These trails will take you to different areas of the park, where you can experience the diversity of the mountains, such as the different flora and fauna that only inhabit specific parts. The lookouts, or overlooks, vary in height, also allowing you to enjoy varying experiences during your visit. From Kingman Overlook at only 6,500' to Hayden Peak at 8, 050', you're guaranteed to see everything. Dinosaur Rock Overlook, also sitting at 8,050', is a must visit. On a clear day you can see mountain tops in four different states: Arizona, California, Nevada, and Utah.
As if this all wasn't already enough, how about riding your ATV all the way from Havasu to the Hualapais? Yes, all the way. You start from Standard Wash Trail off Hwy 95 then to a mining trail that will take you right into the Hualapais. Need a little more fun? Check out their new Frisbee golf course in Deer Canyon.
For an even more memorable experience, visit the lodge during the first weekend in December. Having decorated the entire park, it's truly a winter wonderland. You can even enjoy a cup of hot cocoa while visiting with Santa and enjoy lunch at the Hualapai Mountain Resort and watch elk basking in the sun just behind the building.
So, whether you're looking for a place to hike for the day, a special spot for a romantic picnic, or an adventurous yet relaxing camping trip, this is truly an ideal destination. Full of fun activities, beautiful wildlife, and picturesque scenery, the Hualapai Mountains are the perfect place to get away from the hustle and bustle of city life.