VETERAN BBQ MASTER AND PULLED PORK
EXTRAORDINAIRE, BILL HADDAD SHARES A
LITTLE BIT OF THE SOUTH ON THE SOUTH SIDE.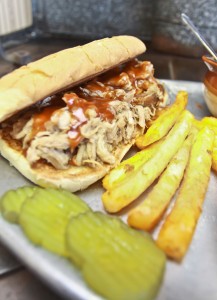 WHEN FOLKS REFER TO "THE SOUTH," they generally assume you know the area they are talking about! Many people believe "The South" is the states located east of the Mississippi River or the Ohio River, and south of the Mason- Dixon Line. It's hard to say if everyone agrees about where the exact borders of "The South" lay, but one thing everyone does agree on is how good the food is!
Southern cooking has a special flair with unique spices, kicked up sauces and mouth watering barbecued meats. Pulled pork is one of the most popular of the southern sandwiches. Lake Havasu City enjoys one of the best restaurants in the west that offers southern cooking.
BEHIND THE PULLED PORK. Bill Haddad, owner and chef at BBQ Bill's Big Easy Bistro, tells us, "I started cooking when I got married. I've been married for 51 years, so I have a little experience." Having found the perfect recipe for marinade and sauce, he believes that being consistent with those has been a key to success. Rather than adding different spices here and there, his recipe calls for the same ingredients in the same quantities to maintain that consistent flavor that people love.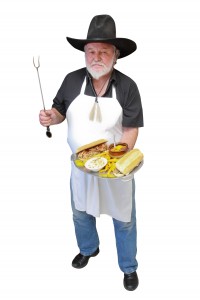 To make his famous pulled pork, Bill uses pork shoulder, he marinates it with his special seasonings and beer then cooks it for eight to nine hours on the stove. Never using a grill for his pork, Bill adds a high quality liquid smoke. Using the stove allows the cook to maintain the consistent level of heat that a grill may not provide.
PRE BBQ BILLS. There's some interesting history that goes with the way pork was butchered and stored. Some folks from the south call this cut of pork the "butt," even though it's actually a shoulder. That originated from the old way pork was stored in barrels or "butts." Traditionally in the south, pigs were butchered in early winter for good reasons. The pigs born in spring were mature enough and it reduced the amount of feed needed over the winter months. It also negated the storage problem considering in those days, refrigeration was relatively new and not everyone could afford to have a refrigerator.
SOME LOVE FOR THE LEFTOVERS. Bill gives us some great ideas for pulled pork leftovers. You can make chili, burritos, pulled pork tacos, or put some over dirty rice and beans.
WASHING IT DOWN. What's the most complimentary drink to go with pulled pork? Without a doubt, Bill says, "beer." Are you getting hungry yet? Head out to the south side of town and try Bill's famed pulled pork sandwich for two. It comes with cowboy beans, cold slaw and French fries. Try his famous pulled pork, and you will definitely be a repeat customer.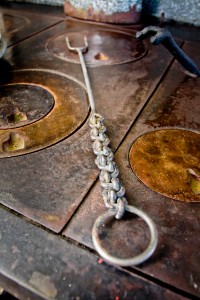 BBQ Bill's at 3557 Maricopa Avenue
928-680-1100 • www.bbqbillsbigeasybistro.com
PHOTO CAPTION:

Not only a distinguished BBQ Master, he's got a knack for craftsmanship as well. Bill fabricates his own BBQ forks. Shown here is the BBQ Bill's Custom Tri-Tip Fork. Stainless steel with a braided handle, this is a must have for any BBQ aficionado, and is for sale within BBQ Bills Big Easy Bistro.