Stop by to learn the history of Bad Miguel…and while you're there, sample the authentic Mexican dishes prepared by Jose!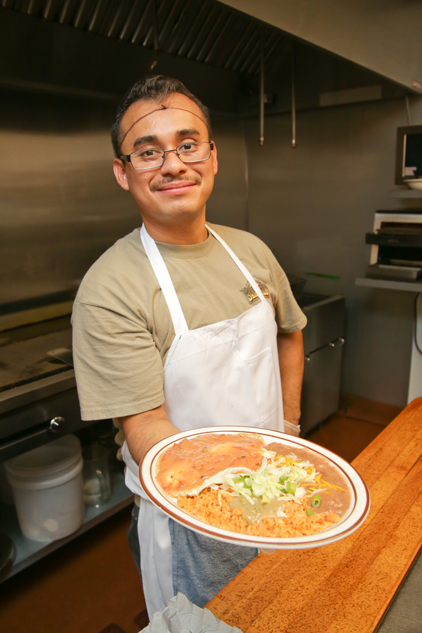 It's interesting to see the variety of dishes that Jose Sanchez prepares at Bad Miguels on any given day. Cooking everything from pancakes to huevos rancheros, Jose also prepares American-style favorites like hamburgers. Jose considers it all just part of his day—and he's been doing so for the past ten years after coming to Lake Havasu from the Acapulco region of Mexico.
According to co-owner Tim Morris, Jose has worked his way up to top chef after starting with the restaurant back in 2003. While Jose specializes in Mexican-style dishes, Tim was quick to point out, "Jose isn't afraid to try new dishes—we have a lot of repeat customers and he's always working hard to present them with new daily specials. It was even his idea to add some low-carb meals to the menu."
Jose strives for cleanliness in the kitchen and works with all of the staff to educate them about proper food handling procedures, food preparation, and sanitation and even Restaurant accounting. To Jose, a great kitchen starts with a clean kitchen. Jose works with assistant Chef Juana Neri and has helped her develop her into a top chef that follows his high standards.
Even the servers take pride in delivering the quality meals that are prepared at Bad Miguels. Many of the servers have in fact been with Bad Miguels for quite a long time—most of them six or seven years. Esmeralda has been with Bad Miguels for ten years—the same as Jose—and she loves working there. Many of the regulars ask for her by name when they come in for a meal.
Owners Tim and Stefanie Morris have seen a lot of changes in the restaurant business in the past ten years, but Tim points out that through it all, Jose has consistently been there while improving his prowess as a Chef. Tim's mom and stepdad originally owned the old Goodyear tire store in town and Bad Miguels was actually his first venture into the restaurant business. As Tim likes to put it, "I went from tires to tacos." Tim has seen a lot of changes, including their move from next door to their present location three years ago, allowing them to expand the seating inside to 96. The addition of patio seating has been a big hit with patrons wanting to dine outdoors.
Tim recognizes that the growth he is seeing in business at the restaurant can be attribute to great service and great food and that Jose contributes to both. The restaurant has its share of weekend regulars made up of a generous mix of locals and boaters. And of course, as the seasons change, the winter visitors find their way back to the restaurant.
Jose's passion for creating great, original dishes creates a great atmosphere of pride in the restaurant and that encourages all of the employees to do their best. Being a great Chef is all about preparing foods that are different and that people will enjoy—but being able to combine the quality of being a great chef while having the qualities that can inspire others around you is a rare talent. Jose always has a smile on his face and it's easy to taste that joy that he brings to every dish he prepares.
BAD MIGUELS
1841 N. Kiowa Ave. #103
(Between Food City and Staples)
928-680-0201