Organically Raised Foods at Fort Rock Farms—Taste and See the Difference
For families that are concerned about the increase in pesticides, chemicals, and growth hormones found in most meats, poultry, and eggs found at supermarkets, organically raised beef, pork, and poultry are becoming a big part of their diets.
Joel Homes, co-owner of Fort Rock Farms, along with his wife Amy, know the importance of raising meats in an all-natural environment. "We try to adhere to nature's template as close as possible," explains Joel. "We make sure our animals have natural and sanitary living conditions by moving them to fresh grass every day, letting the sun sanitize behind them. In nature, animals graze and manure while always moving. It's a primal instinct that fertilizes the grasses, so they can return after sun, birds, and time have sanitized the area."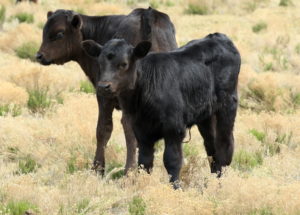 The beef is free range, but those pastures are still managed to be sure they get the proper rest. According to Joel, "Our other animals are intensively managed to provide sanitation, stimulate grass growth, safety from predators, giving them a 24/7 choice of shade, sun, rest, fresh water and great feed." Chickens get to scratch and roost. Pigs get to root around and cool off in the mud as they wish. Cows get to nap and scratch under trees of their choice. Their animals get to express any instincts they are born with, giving them the most natural life as possible.
At Fort Rock Farms, they like to talk about being "Beyond Organic." That's because they go above and beyond what is considered as organic as defined by USDA. "Our business model has very little to do with the USDA's definition of organic production. Our standards are much higher than the USDA standards. While accepted standards allow for certain quantities of pesticides, synthetic fertilizers, and pharmaceuticals–we have a zero-tolerance policy. Originally, the organic standards were a step in the right direction, but we feel it has been watered down so much and with very little oversight–who knows what you are actually getting or how many thousands of miles food had to travel before getting to your table."
Joel was quick to point out the in the past—for several hundred years—people were close to their food sources. "If they weren't growing it themselves, they at least had a great relationship with the ones that were providing it. Today, foods are shipped long distances to get to a local market. You truly can taste the difference in our organically raised meats."  But don't just take their word for it. Here's what one of their customers, Darren Faulkner, had to say, "Hands down the highest quality of meat this side of the Colorado river. Thank you for the front door delivery service. Joel and Amy Holmes are two amazing people making Fort Rock Farms a definite need in every household."
Fort Rock Farms also has pasture-raised chickens and eggs. "We sell whole birds, processed and ready to cook. We also have a less expensive option with "stewing hens" which are 2 1/2 year old laying hens that we process out of laying production. Great for crock pots, shredded chicken, and Mexican recipes. We also sell organ meat and feet for broth."
On the beef and pork side, customers have the option to buy in bulk with options to purchase beef in orders quarters, halves, and whole steers. They can also order individual packages of grass fed ground beef as well as organ meats, tongue, and bone broth packages. Pork is sold by the ½ and whole pig.
At just 100 miles one way to Havasu, Fort Rock Farms is within the range of what is considered local. "We are a small, family farm that direct markets to Lake Havasu residents with home/business delivery. Our customers are welcome to come see firsthand how their food is raised and understand the processes we go through. Heck, we even put some of them to work. How's that for truly connecting to your food?"
Fort Rock Farms
21120 E McKenzie Dr.
Kingman, AZ 86401
928.486.4043 Joel   928.208.0611 Amy
www.fortrockfarms.com