The Most Important Meal of the Day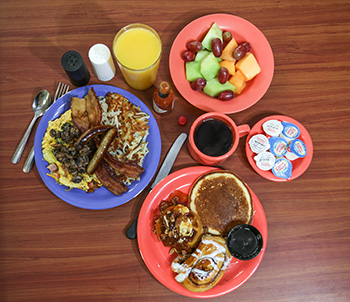 Spinach & Red Bell Pepper Omelets
Topped with cheddar cheese, diced tomato, and sautéed mushrooms. Served with crispy hash browns, bacon, and link sausage.
Apple Pecan Waffle, Cinnamon Roll, Buttermilk Pancake
Drizzled with syrup.
Golden Corral
928.680.6509
1550 S. Palo Verde Blvd.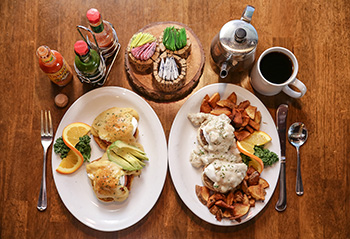 Mohave Benedict
Served on a crispy muffin topped with Canadian bacon, tomatoes, avocado, poached eggs, and Juicy's house-made Hollandaise sauce.
Country Biscuit Benedict
Fresh-baked buttermilk biscuit topped with savory sausage patties, poached eggs, and smothered in delicious sausage gravy.
Juicy's
928.855.8429
42 S. Smoketree Ave.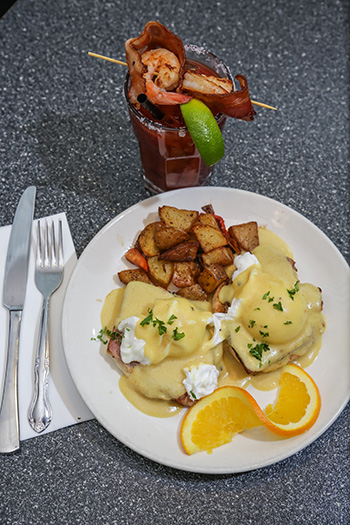 Eggs Benedicts
English muffin, ham, and poached eggs covered in Hollandaise sauce
Rebel BBQ
928.764.5550
25 Acoma Blvd.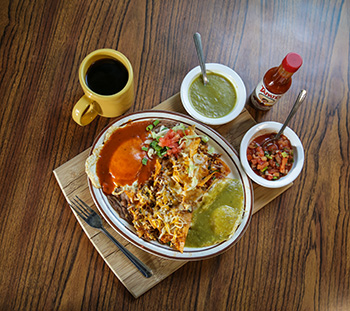 Divorced Eggs
Two eggs each topped with green and red sauce divided by chilaquiles – tortilla chips with shredded beef, eggs, cheese, and onions
Bad Miguel's
928.680.0201
1841 N. Kiowa Ave.