Photo courtesy of the Lake Havasu Museum of History –  Sailboats were prominent in the 1960s, and McCulloch sponsored the Annual Lake Havasu City Regatta that still survives to this day. Back in May 1965, shortly after the town was established, 16 Pacific Catamarans entered in the race. Lake Havasu held the largest Hobiecat regatta in the history of Hobiecat racing back in 1975. Known back then as the London Bridge Regatta, the event, hosted by the Lake Havasu Yacht Club, holds the all-time record of 408 competitors. Today the event is the Hobie McCulloch Cup, open to all multi-hulled catamaran sailors.
Boats have always played an integral part of Lake Havasu's history—ever since the first steamboat, the Uncle Sam, made its way down the mighty Colorado River back in 1854. Captained by James Turnbull, the Uncle Sam was contracted to shuttle supplies to the troops at Fort Yuma—up until the day the boat sank. Steamboats were a common sight on the Colorado River in the early 1900s and played a major role in trade and commerce, as well as helping to establish many important mining operations.
Today, boats play as major a role on the Colorado River as they did back in the early 20th century. Of course, much of the activity, especially on Lake Havasu, is designed for recreational purpose and helps drive the tourism industry. And with the arrival of Robert P. McCulloch in the late 1950s, the boating industry was an essential part of business, as he was developing powerful, efficient, outboard motors.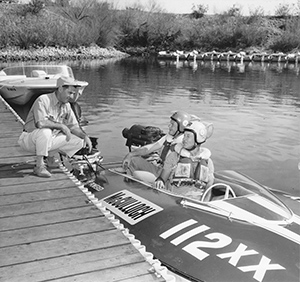 Photo courtesy of the Lake Havasu Museum of History In 1956, McCulloch purchased the Scott-Atwater Company, a manufacturer of outboard motors. By 1964, he was testing outboard motors at Site Six and his company became the 3rd largest manufacturer of outboard motors in the world. They also manufactured outboard motors for high speed boats. This undated photo shows one of those engines being tested in Lake Havasu.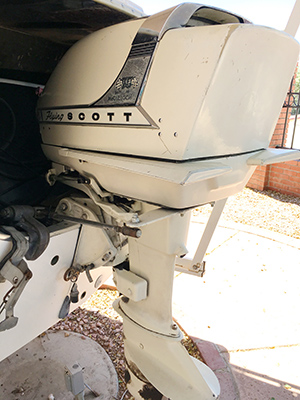 A close up of the Scott boat engine, featuring the 75hp long shaft McCulloch motor. It was the largest mass production outboard motor McCulloch produced, although he did also manufacture the McCulloch 630—an engine designed with fuel injection for the high speed racing boats.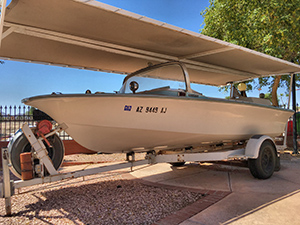 This boat, owned by the Lake Havasu Marine Associate, is a real piece of Havasu history and is currently on display at the Visitor Center located in the English Village by the London Bridge. This model of the Scott boat (named after the Scott-Atwater Company), was used extensively in the 1960s. The boat was advertised to be unsinkable and unflappable, and it was tested very extensively.
Today's speedboats are faster, with more powerful motors, capable of speeds in excess of 200 mph. (See story on page 41). But the reality of Havasu's history as a growing and vibrant city will forever be attached to the lake and the boats that help drive the local economy.