Waiting for your table to open up? No point is wasting the time away—not when you can belly up to the bar, select you favorite beverage, and start your evening off right with some tasty appetizers.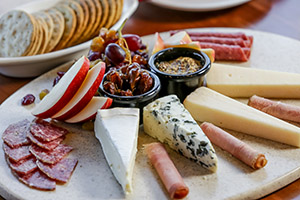 Nosh Board
If you have a group of friends dining with you and you can't decide on an appetizer, give this one a try. A health grouping of Brie, Gorgonzola, Raspberry Parmesan, Sopressata Salami, and Bruschetta. Served with figs and whole grain mustard. Garnished with apples, craisins, golden raisins, grapes, and assorted crackers.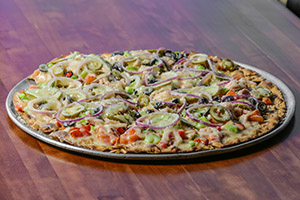 Lavosh
Once you try it you'll wonder why you've never had it before. Extra-large crisp Armenian cracker bread with melted Havarti cheese and any four of the following: tomatoes, mushrooms, green peppers, bacon, ham, black olives, artichoke hearts or jalapenos.
Shugrues
928.453.1400
www.shugrues.com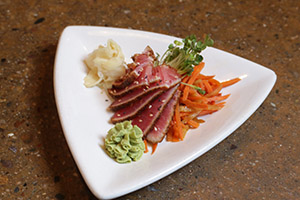 Seared-Ahi
A special treat featuring ahi-seared in herbs and spices, sliced thin served with wasabi, pickled ginger, and marinated veggies. A light yet flavorful appetizer that is perfect for sharing.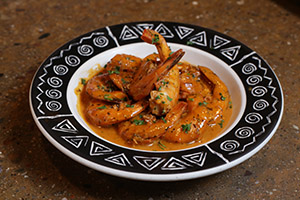 Creole Shrimp
This one is for shrimp lovers! This creole style shrimp is prepared using a blend of ten spices, giving it a haunting, one-of-a-kind flavor. Served with rustic ciabatta bread…and a lot of napkins
Cha Bones
112 London Bridge Road
928.854.5554
ww.chabones.com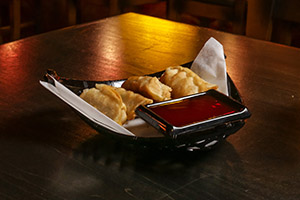 Gyoza Dumpling
A wonderful offering of 6 Gyoza Dumplings that are seared and them poached. The dumplings are a combination of pork and vegetables and are served with your choice of sauce.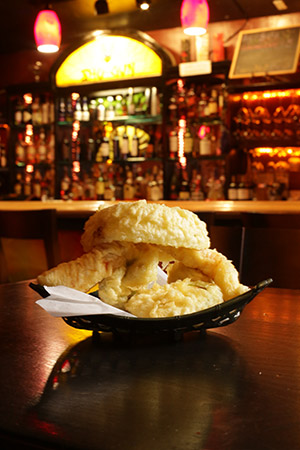 Mixed Tempura
This gently battered and lightly fried Tempura appetizer is comprised of a pleasant mix of lightly fried shrimp and a mix of assorted vegetables. A light snack to hold you overt until your meal.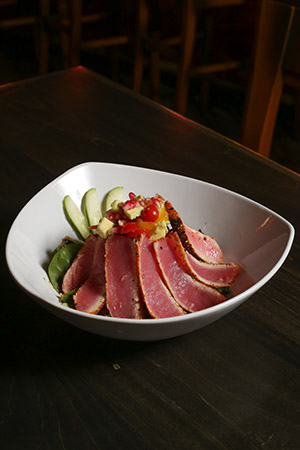 Tataki Salad
A salad made of Tuna Tataki–a yellowfin/ahi tuna–lightly seared and serve rare with citrus base soy sauce. .., served on a bed of fresh greens.
Shogun
90 Swanson Ave.
928.680.6668
www.shogunlakehavasu.com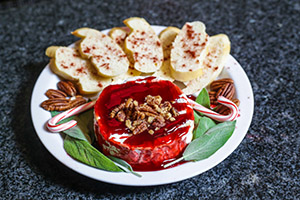 Brie with Raspberry Sauce
A warm Brie–a soft, mild, creamy cheese with a firm white skin—topped with a season blend of raspberry sauce and candy pecan. As delicious as it is festive looking.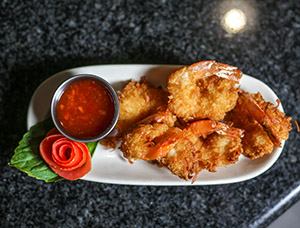 Coconut Shrimp
Beautiful fan tail shrimp dipped in a coconut batter and deep fried to a crispy brown. Served with a special cocktail sauce.
Martini Bay
1477 Queens Bay
928.855.0888
www.martinibay.com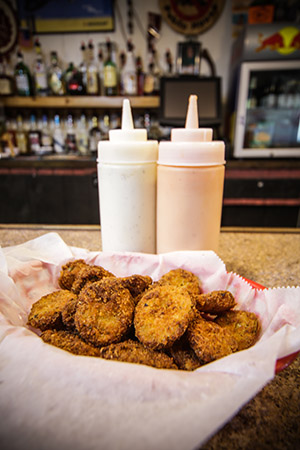 Deep Fried Pickles
A real treat, especially if you've never had them before. We guarantee that once you taste these battered and deep fried pickles you'll have a new respect for the cucumber. Served with that special No-Name sauce. Give 'em a try.
No Name Public House
2903 McCulloch Blvd.
928.302.1955