Dive Right in—the Water's Fine
Joel Silverstein, a local diving instructor, likes to refer to the Lake Havasu area as the Caribbean of the southwest. With over 6,000 dives under his belt, Joel knows a little something about diving. We asked Joel to provide us with a simple overview of what it takes to become involved in diving.
"Scuba is an equipment intensive sport," notes Joel. "Basic equipment includes a mask, fins, a breathing regulator and compressed air tanks, as well as some thermal protection." In order to dive anywhere in the world, a person has to pass a Scuba Certification course. Locally, the training is done in a pool with certification taking place in open water, such as Lake Havasu. The course runs 30 hours and prepares a person for diving in up to 60 feet of water in conditions similar to what they were trained in. Classes also include academic training and cover the physical aspects of diving as well as procedures and equipment technique.
Joel points out that there are many great dive locations right in Lake Havasu, as well as in the surrounding lakes. For example, there is an old B-29 bomber in Lake Mead. It is in about 150 feet of water, so that dive requires more technical training. One of Joel's most fascinating dives is to the Andrea Doria, a cruise ship that sank off the coast of Massachusetts in 1956.
There are a number of dive shops in Havasu and it is estimated that there are roughly 1,000 certified divers in Lake Havasu with about 150 regulars that dive locally. It is always best to contact the local dive shops to learn about any upcoming dive. And if you're serious about getting into diving, you may want to check out this local dive group:
Lake Havasu Divers Association
Lake Havasu Divers Association is an organization for the promotion of safe diving activities in Lake Havasu City, Arizona. In addition to weekly dives, the club meets on the 2nd Tuesday of each month at 7:00 PM at the London Bridge Resort. Check out our Facebook Page for all activities: www.facebook.com/groups/255519925292/ Also, Lake Havasu Divers Association website: www.lakehavasudivers.com
3 Popular Dive Sites in Lake Havasu
Site 5 Underwater Training/Obstacle Course
This site is on the island in a small cove that is accessible by car. This site is a great area to train and practice diving. Underwater you will find two sail boats, a small tri -hull, submarine, truck, and other items. The whole site is set up with lines that take you to each area.
Approximate Coordinates: 34.450298, -114.373135
Victoria Cliffs
This site is only accessible by boat off the south east corner of the island. It has sheer walls ranging from 10-40 feet deep and runs about a half mile. It has ledges, boulders, some swim-throughs, as well as a few small boats as well. Visibility here is usually very good.
Approximate Coordinates: 34.452898, -114.349712
Paddle Wheel Wreck (Miller's Folly)
This site is in Skier's Cove and is also known as Miller's Folly. This wreck is the remains of one of the early Lake Havasu Party Boats — it is located in 25 feet of water next to one of the larger fish habitats.
Approximate Coordinates: 34.444183, -114.366249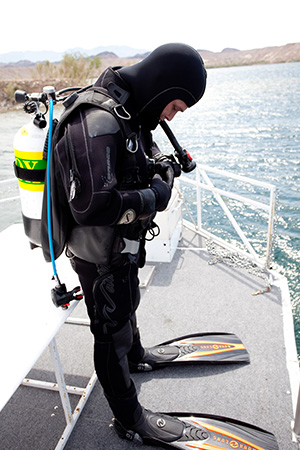 Local Dive Shops & Services
Scuba Training & Technology
2150 Kiowa Blvd. N.
928-855-9400
Services: Full service dive center with equipment, air, nitrox, rentals, training and dive guide services.
Captain John's Dive Charters
R/V Explorer
(928) 412-0688 • captjohn@captjohnsdivecharters.com
Services: Custom dive charters in Lake Havasu — both day & night dives available. The two-tank dives include transportation, drinks, and snacks. Tanks & gear not included.
The dive community also works to help keep the environment clean by sponsoring a Copper Canyon Underwater Cleanup and the next one is on May 31. If you'd like to be involved, give them a call.
UPCOMING DIVING EVENT:
6th Annual Copper Canyon Underwater Cleanup
May 31st from 6am-12pm
• Briefing Tuesday 6:15am @ Lake Havasu Marina
• Pre sign-up required. Releases and C card required
• Clean up in Copper Canyon is from 7am-11am
• Sponsored BBQ afterwards at Partners Point
• Bring: dive gear, gloves, catch bag and 2 cylinders
Contact Info:
Joel Silverstein
928.855.9400
joel@techdivinglimited.com