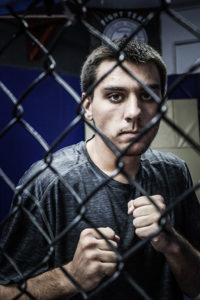 At 21 years of age, Justin Musgrove has his sights laser-focused on the world of Mixed Martial Arts (MMA) and his chance to go professional. In his first competitive outing at the Blue Water Casino on May 19, Justin won all three of his rounds in the 170-weight class. Part wrestling, jujitsu, kickboxing, and boxing, the world of MMA is taking off around the world—in particular the UFC league. The Belator league is an up and coming league that has shown a lot of promise. If you enjoy watching MMA fights, Fanduel's sports betting platform, sportsbook, allows you to raise the stakes when watching fighters face off in the Octogan. Although, it's important that you do your research, such as checking out predictions, tips, and odds, before betting on MMA events.
Justin played high school football while at Lake Havasu High School, but didn't know what he wanted to do after high school, resulting in him taking a year off. "Unfortunately, doing nothing means sitting on the coach watching wrestling and eating. Back in 2015, Justin ballooned to 285 pounds. "I knew I was in trouble. I was 18 years old, overweight and feeling not so great," recalls Justin. So he discovered Arevalo Academy, owned and operated by Rudy Arevalo for the past 13 years. "I was interested in learning more about MMA and what I could do to become competitive," notes Justin. Now, thanks to proper training and a motivation to go pro in the world of MMA, Justin fights at the 170-pound weight class. "When I first started coming to the gym, I started on the punching bag, then over the months I got involved with boxing, kickboxing, and wrestling and the weight just started coming off. I was faster and had a lot more energy," notes Justin.
Even as an amateur Justin has Legendz, McKee's, and Four Clovers sponsoring him. Rudy likes what he sees in Justin, "I want to see guys like him fight to their fullest potential. Justin has the chance to go pro." Rudy should know, he has been putting together fight teams for the past 11 years and even had Jason Roope train in his gym. Jason was a past winner of the prestigious King of the Cage competition. "Jason was a big motivator for me, and I was grateful that I was able to work out with him at the gym before he became a champion. It was a great opportunity to learn from one of the best," explains Justin. He also wants to thank Danny Crayton, one of his trainers from Parker, who has has allowed him to be part of Mixxed Bloodz MMA.
Danny has often traveled from Parker and has been a major help getting him ready for his fights. Melaine Musgrove, Justin's mom, said she was so proud of her son's transformation, "I worked with him for the past three years and supported him, I'm so proud that he stuck it out. It was hard watching him compete for the first time, but he did an awesome job and won his bouts." Justin's father, George Lockwood, always told his son to suck it up, even when he was hurt. "He's come a long way, and I'm looking forward to his next competition."
It's pretty evident that Justin has the backing of his family, including his fiancé Stephanie Bruner, who was ringside to support him in his competition on September 8, 2018 at the Blue Water Casino. Justin won this most recent fight by unanimous decision. He says it was an honor to be the main event for RUF MMA, and that he cannot wait for the next event.