About the photo:
My cousin took this photo last December with an iPhone X in portrait mode. She is a volleyball player for ASU, so whenever she comes to town, we like to be as active as we can. She has never hiked Tabletop before, so it was a fun adventure for her. Though I have done the hike many times, I needed multiple breaks, while she was hardly breaking a sweat! She fell in love with the view when we made it to the top and enjoys this hike every time she comes to Havasu in the winter. Hiking to Tabletop is my all-time favorite. It is challenging, exhausting, but rewarding with an amazing view at the top. Winter months are always the best time to go with friends!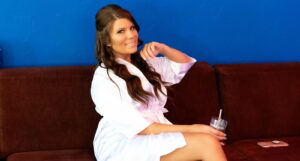 About: Tara Peer
I was born and raised in a small town called Eden Valley in Minnesota. I first discovered Lake Havasu when my grandparents bought a condo down here many years ago. I have been vacationing here ever since I was about 12 years old and fell in love with the area. I eventually got sick of the cold and followed my mother, sister, and brother down to Arizona! I am almost at my seventh year in Havasu, and in that time, I have met many friends and my soulmate Braxton that I married April of 2019. We just purchased our first home together and have two fur babies named Archer and Saber. I love being outdoors, so moving somewhere where I could enjoy activities year-round was a huge bonus! I love to hang on the beach and go boating with family and friends. You can usually catch me anywhere near the water in the summertime. I would take the 100 plus degrees over the below zero temperatures any day! During the winter, I really enjoy a nice hike, walk around the island, or go off-roading in the RZR in the desert. There is never a dull moment while living here. I am so blessed and happy to call Havasu my home.  Life is good!
SEND US YOUR PHOTOS:  If you have an interesting or unusual photograph that was shot in or around Lake Havasu, e-mail us at Editor@LakeHavasuMagazine.com, or post it on our Facebook page facebook.com/LakeHavasuLivingMagazine, and you might just be our next Photo Finish winner.