That's Amore!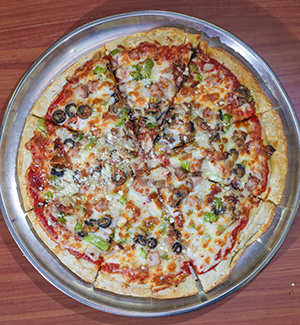 Golden Corral
Baked fresh and served hot out of the oven! From the traditional cheese and pepperoni to the classic ham, sausage, green peppers, onions and olives, Golden Corral has your pizza-just the way you like it!
928-680-6509
1550 S. Palo Verde Blvd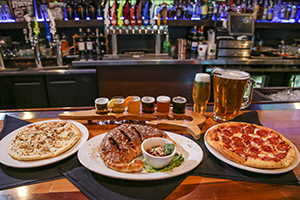 Mudshark Pizza & Pasta
Want to try a different kind of pizza? Order the White Spinach Chicken Pizza with white sauce, spinach, garlic, grilled chicken breast, mozzarella and Greek feta cheese. Or stick to the traditional pepperoni and cheese for a true classic. Not in the mood for pizza? Try an overstuffed calzone-Pizza's close cousin!
Mesquite Location
928-680-4555
1625 Mesquite Ave.
Swanson Location
928-453-2981
210 Swanson Ave.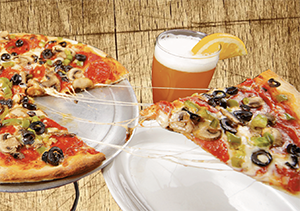 Ken's Pizza
Two generations family owned and operated for 31 years, Ken's Pizza and Pasta only uses the most fresh and best ingredients. You really can taste the difference! The pizza pictured here is a hand tossed crust topped with sauce, cheese and a full complement of toppings including green peppers, mushroom, olives, and pepperoni.
928-855-4404
1675 Mesquite Ave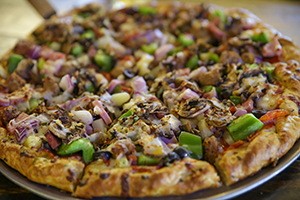 The Spot
Definitely the spot to stop if you want a pizza that comes topped with a variety of fresh meat and veggies. This pizza will feed even the hungriest family with every square inch of this pizza topped with mouth-watering goodness. Wash it down with a brewski for the perfect night out!
928-505-7768
3612 S. Jamaica Blvd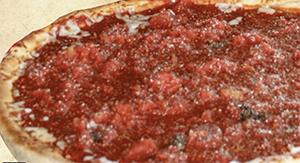 Rosati's Pizza
Rosati's food is a true original. Prepared from scratch and made from family recipes, the result is always perfect. Seasoned mouthwatering food…it's well worth the wait! Stop by today and get yourself a Chicago style pizza with cheese and with jumbo wings, and wash it all down with an ice cold beer.
928-855-8665
91 London Bridge Road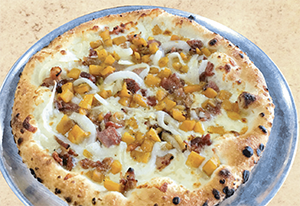 PZA Pizzeria
First topped with olive and rosemary oil, then bacon, garlic, mozzarella, caramelized onions, and butternut squash, The Jojo pizza is truly made fresh and cooked in under 2 minutes right before your eyes!
928-733-6315
1641 McCulloch Blvd.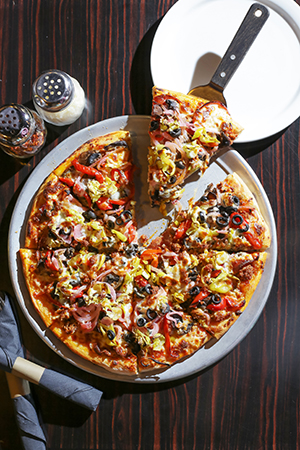 College Street
The Brewer's Pie from College Street is made with several tasty toppings like pepperoni, hot Italian sausage, pepperoncini, black olives, mushrooms, onions, bell peppers, mozzarella, and marinara. The only other thing you need is your favorite College Street brew!
928-854-2739
1940 College Dr.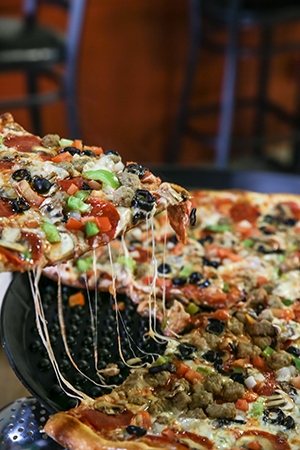 Papa Leone's
Is it a meat lover's or veggie delight? Well, it's both, and this pizza is truly 'supreme'. The combination of meats and veggies makes this a pizza classic!
928-302-2525
English Village St. #304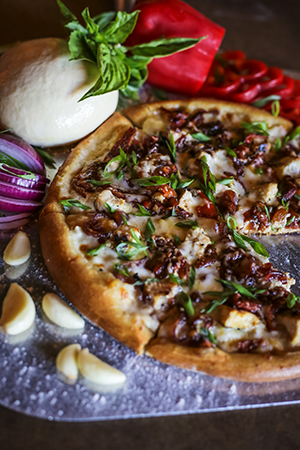 ChaBones
Unlike your traditional pizza with marinara sauce, the Chicken Alfredo pizza from ChaBones is made with creamy Alfredo sauce, chicken breast, caramelized red onions, roasted red peppers, mozzarella, and parmesan.
928-854-5554
112 London Bridge Rd.

Rebel BBQ
Looking for a different twist on pizza? Try this BBQ flatbread at Rebel BBQ. It's made with fresh basil, feta cheese, BBQ sauce, and chicken.
928-764-5550
25 Acoma Blvd.