Renee Hudson is racing to help find a cure for breast cancer. She is entering her 5th season of off-road racing in the UTV 1900 class and dreams of moving up to a trophy lite (truck) class—all the while supporting a worthwhile cause.
On October 5th in Barstow, California, Renee will be participating in the M.O.R.E. (Mohave Off-Road Racing Enthusiasts) race to benefit breast cancer. This is an all-women event with several classes; all women events are known as Powder Puff Racing. Renee will be entered in the UTV class (Utility Terrain Vehicle) and hopes to be on the podium receiving a trophy. Renee is asking for donations from friends, family, coworkers, business associates, business owners in the community – anyone who would like to help her reach her goal; proceeds to be donated to the Cancer Association of Havasu Mammogram Program. Renee is non-profit, and donations will go directly to our community. This year she is looking to raise $8,000 locally. Last year she achieved her goal and was blessed to raise $5,200 which was donated to our local mammogram program. Her team name is Getting Dirty for the Ta Ta's. To donate you may go to www.gofundme.com/3sd5qk.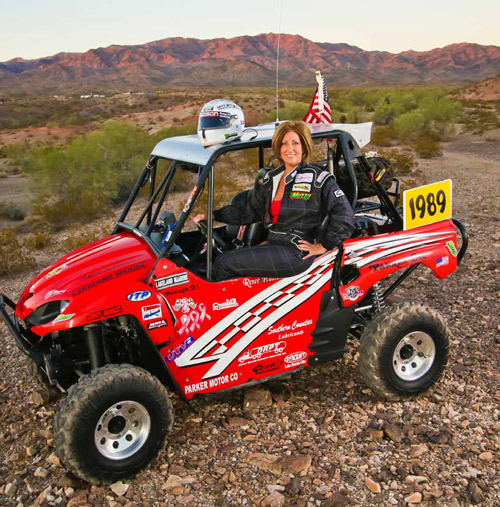 Living and racing in Lake Havasu City, Renee is committed to using her talents and knowledge about racing to help advance the research to finding a cure. The entire M.O.R.E. event is a fundraiser for breast cancer research, designed to assist women in early detection. In the past 4 years Renee has taken first place, 4th place, and a 3rd place finish last year, so she will be driving hard to repeat her earlier successes. Renee will begin the season in the Powder Puff race and the following weekend she will race the BITD Desert Challenge in Parker, AZ. — and take on the men.