In the March/April 2019 issue I discussed how online advertising targets users via their microphone.  The article touches on how to specify which applications on your phone may use your microphone. This can alleviate the "listening" certain applications may be performing, but there is more you can do to protect your privacy.
Android
Voice & Audio Activity
Google has a service called Google Voice & Audio Activity. The intent is for the operating system to learn how you speak, to better understand your voice commands and improve your experience. However, it is also documenting speech! To view your activity go to:
On your Android phone or tablet, open your device's Settings app Settings app > Google > Google Account.
At the top, tap Data & personalization.
Under "Activity and timeline," tap My Activity.
Under the search bar, tap Filter by date & product.
Uncheck the box next to "All products."
Check the boxes next to "Assistant" and "Voice & Audio." If one or both of these products aren't listed, you don't have any relevant activity saved to your account.
Tap Apply.
You'll see a list of your past voice inputs, and the date they were recorded.
If you see the "Transcript not available" message, your microphone was turned off or there was too much background noise during that activity.
You turn this feature off by:
On your Android phone or tablet, open your device's Settings app Settings app > Google > Google Account.
At the top, tap Data & Personalization.
Under "Activity controls," tap Voice & Audio Activity.
Turn the setting off.
Location Tracking
Unfortunately turning of Location History in your Google account is not enough. If you use the map app or weather app, Google still tracks you location upon opening. You will need to modify your Web & App Activity settings to shut this feature down:
Go to Google settings > Google Account
Tap on Data & Personalization
Tap Web & App Activity and turn it off
You will receive this warning, "Pausing Web & App Activity may limit or disable more personalized experiences across Google services. For example, you may stop seeing more relevant search results or recommendations about places you care about. Even when this setting is paused, Google may temporarily use information from recent searches in order to improve the quality of the active search session."
iPhone
Voice Tracking
Apple has stated that if there is unauthorized voice tracking it would be apps downloaded to the phone, not their operating system. Although, Siri is capable of tracking your voice as well, it is unclear if the feature is in fact doing it. If you don't trust Siri, you can turn the feature off:
Go to Settings
Tap Siri & Search
Turn off the toggles for "Listen for 'Hey Siri,'" "Press [Side or Home] Button for Siri," and "Allow Siri When Locked"
Location Tracking
Again, Apple staunchly states that they never track location without explicit permission from their users.  You can either turn off global GPS tracking, which will affect all apps on the phone, or specify individual app permissions for GPS. If you use weather apps, Uber, or other location driven applications, the global setting would inhibit their functionality. To modify the permissions:
Global Setting
Settings > Privacy > Location Services
Tap the green toggle
Specific Apps
Settings > Privacy > Location Services
Browse the apps you do not want to track GPS
Tap the green toggle
These are the basic steps to regain some privacy, but there are more! If you are really bothered by the idea of online tracking, you may want to research a VPN (virtual private network) service. VPNs provide privacy for online browsing by masking your location and activity. There are several monthly services available, with family packages for multiple devices.  Otherwise, just by using the simple modifications above, you can minimize the creepy feeling of by watched.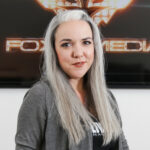 Lover of tech and the internet. Tara Samons is the web developer at Foxx Media, Lake Havasu LIVING Magazine, USA Smart Shopper, List & Buy Guide, IMPACT Design Studio, and ShopHalfOff.com. She develops websites and runs internet marketing campaigns for small businesses and government agencies.