In the novel Casino Royale, James Bond's recipe for a martini involved three measures of gin, one measure of vodka (Russian of course), and half a measure of Kina Lillet aperitif, shaken, not stirred, and served ice-cold with a large, thin slice of lemon peel for garnish. While Bond is still happily sipping on his martini of choice, today's specialty martinis are much more creative, and made mostly with vodka.
If you're looking for the best martini in Havasu, we're not going to choose one for you. But, what we are going to do is present an awesome selection of the most creative drinks found at some of the top establishments around town. We present you with the best martinis—all made with vodka and created with a special twist.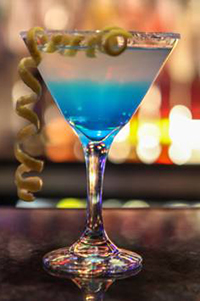 Blueberry Iceberg Martini
This lemony-zing martini starts with 2oz of Blueberry vodka, 2oz of Lemonade, 3 fresh squeezed lemon slices, shaken well. Finish with Blue Curacao, sugar rim, and a garnish of a fresh lemon twist. A spirited martini with a hint of lemon.
Martini Bay
1477 Queens Bay
928.855.0888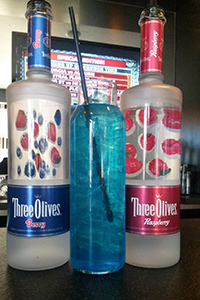 Skyline
The traditional martini—with a few variations–Three Olives Berry and Raspberry vodka, Blue Curacao, Sprite, and sweet and sour. A "berry" distinctive flavor.
Jersey Grill
2049 McCulloch Blvd.
928.680.3663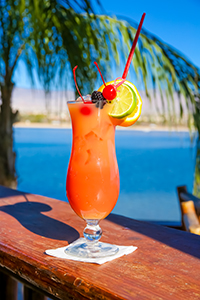 Peach on the Beach
The Turtle's twist on the popular "Sex on the Beach." Ciroc Peach vodka, (gluten free because it's made with grapes), equal parts cranberry & orange juice. A very fruit-centric martini garnished with maraschino cherries, raspberries, and an orange wedge.
The Nautical Turtle Bar
1000 McCulloch Blvd. N
928.855.1897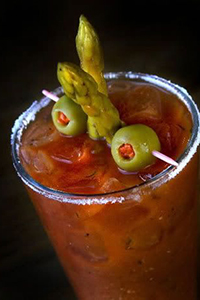 The Juicy Mary
It's all about the mix! Made from scratch by Juicy's cooks using fresh herbs and vegetables to a precise secret recipe. Juicy's sells more Bloody Mary's than Bud Light and Coors Light combined. It's the freshest Mary on the River!
Juicy's River Cafe
42 South Smoketree
928.855.8429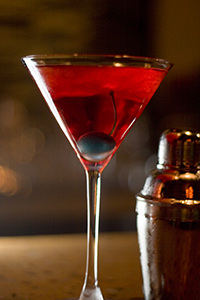 Cha-Bones Martini, Cha-Porn Martini
Two distinct tastes using two blends of vodka and a variation of juices: Start with Hypnotiq Fusion vodka, Stoli "Raz" vodka, and finish off with a splash of pineapple juice. The Cha-Porn Martini combines X-Rated fusion vodka with Stoli "Raz" Vodka, and just a splash of grapefruit juice
ChaBones
112 London Bridge Road
928.854.5554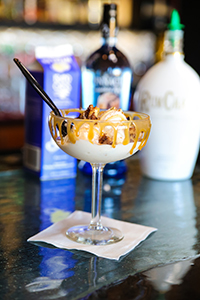 Vodka Cinnabon Ice Cream Creation
Cinnabons, caramel topping, and vodka? You got it! 1.5 oz Pinnacle Cinnabon vodka, .5 oz of Rum chata, and 2 oz island oasis ice cream smoothie mix. Topped with a dash of cinnamon, Caramel frosting and Cinnabon crumbles—sweetness in a martini glass.
Lotz on the Rocks
2144 McCulloch Blvd. N.
(Located in Schlotzsky's)
928.854.2144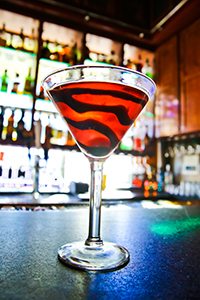 Chocolate Covered Cherry Martini
Chocoholics will love this unique blend of Three Olives brand Cherry vodka, along with chocolate vodka, a splash of grenadine, and garnished with a maraschino cherry. Best of all—it's served in a chocolate glazed glass.
Javelina Cantina
1420 McCulloch Blvd. N.
928.955.8226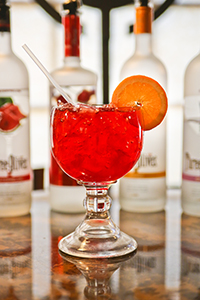 Rising Sun
This lively colored creation is made blended with four flavors of Three Olives brand vodka: cherry, watermelon, mango, and grape. Blended with cranberry juice and served over ice.
ShoGun
90 Swanson Avenue
928.680.6668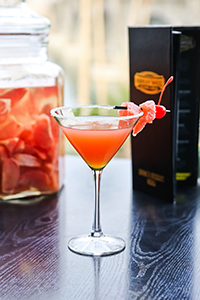 Tito's Martini
Homemade Grapefruit Infused Tito's Martini, prepared with pink grapefruit juice and served chilled up, or on he rocks. Want a variation? Ask the bartender to substitute with the juice of your choice.
Barley Bros.
1425 McCulloch Blvd. N.
928.505.7837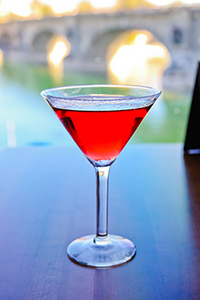 Fountain of Youth Martini
Out on the town? Celebrating a special event? Try this special martini made with Blueberry vodka, PAMA pomegranate liqueur, and champagne. A sparkling change of pace thanks to the pomegranate liqueur and champagne.
Shugrue's
1425 McCulloch Blvd. N.
928.453.1400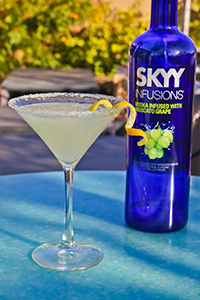 Lemon Drop Moscato
This unique martini starts with Moscato grape Sky infused vodka and Triple Sec. Fresh squeezed lemon juice is added to the mix along with lime, sweet and sour, and a sugar rim. Delicious.
Angelina's
1530 El Camino Dr.
928.680.3868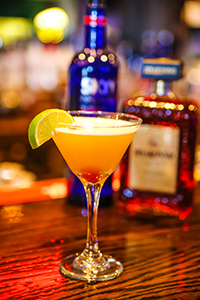 Cherry Limeade
This drink is much more than your usual limeade. Made with Skyy Cherry vodka and Disaronno Amaretto-and just the right amount of sweet and sour mix.  Garnished with lime and cherry, this sweet concoction satisfies any sweet tooth.
BBQ Bill's Big Easy Bistro
3557 Maricopa Ave.
928.680.1100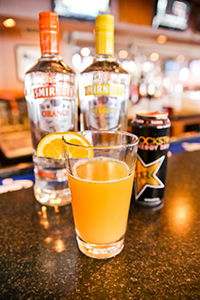 Sunkist
Be a rock star with this double shot vodka martini featuring Orange Smirnoff vodka and Citrus Smirnoff vodka. Add a splash of OJ and mix with a liberal amount of Rockstar energy drink. A sure pick-me-up.
Maddogs Bar & Grill
2048 McCulloch Blvd N.
928.505-5253