Young and old alike enjoy the arts. And whether you enjoy perusing art or creating it, Havasu has a wide variety of art-centric shows, classes, and displays available to all. Here are a few of the unique art activities around town…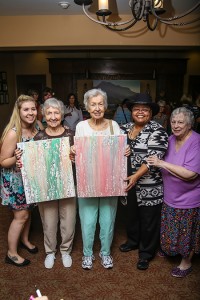 Lake View Terrace Memory Care
Lake View Terrace Memory Care may not readily come to mind when you think of art, but it was home to the First Annual Beacon of Hope Hospice Art Show. Held on the afternoon of August 27, the show featured many fine pieces of art with a silent auction that benefited the Alzheimer Dementia Connection of Havasu.
Just a few of the art pieces that were available at the first annual art show held at Lake View Terrace. The show was open to the public, and attendees were appreciative of the variety of art on display.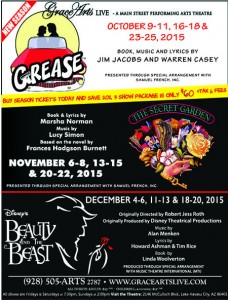 Grace Arts Live
Grace Arts Live continues to bring live theatre to Main Street. Grace Ann Etcheberria-Jacobs is the owner, producer, and director of the live productions and is responsible for many youth productions, workshops, concerts, and special events. The undisputed Queen of Theater in Havasu, Grace Ann has helped hundreds of young minds to develop their love for stage and theater. Many of her students have gone on to star both on and off Broadway, and have also been seen in movies and on television shows.
This year GraceArts Live Main Street Theater has a number of wonderful productions starring local talent. If you've never been to a production—what are you waiting for? Check out these great productions being staged over the next few months.  For more information: 928.505.2787.
Grease: October 9-11, 16-18, 23-25
The Secret Garden: November 6-8, 13-15, 20-22
Disney's Beauty and the Beast: December 4-6, 11-13, 18-20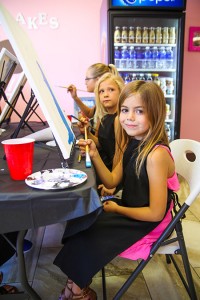 KidzArt
KidzArt is a franchise art program offered to all elementary school students in Havasu. Local art teacher, Rachelle Campbell, provides weekly, one hour classes after school at Starline Elementary.
With sessions lasting six weeks, KidzArt helps fill a gap for children looking for additional creative outlets. Rachelle works with a number of mediums, including clay, charcoal, markers, water colors and acrylic paints. During Spring Break (as well as other school breaks), Rachelle puts on a camp for the kids; all of the artwork is put on display so the families can get together and check out.
In addition, Campbell holds painting parties that are open to both kids and adults. Anyone interested in participating can sign up by contacting the Lake Havasu City Parks and Recs department.
Some of the smiling faces of kids having a great time creating art—the name says it all: KidZArt!