Chef Johnson Starts With Angus Beef—Hand-Cut and Prepared to Perfection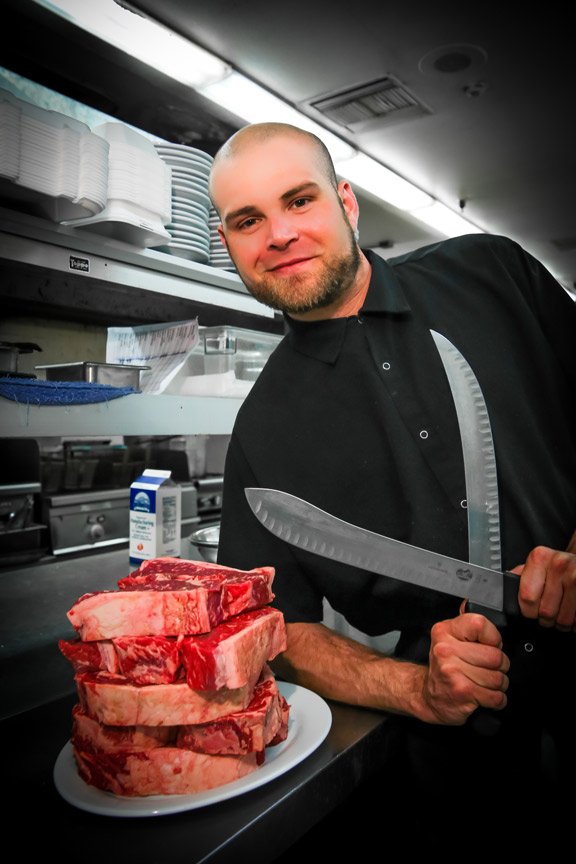 Chef Ben Johnson takes great satisfaction in seeing one of the patrons of Montana Steak House enjoy a choice Angus Beef steak prepared to perfection. After all, Chef Johnson takes great pride in serving the best beef, char-grilled to perfection.  "I usually start my day by spending three or four hours each morning cutting our steaks. Getting the right cut, in-house, is what makes our steaks stand out." Whether you're looking for a mouth-watering Ribeye, well-marbled and char-grilled, or their Filet, their most tender cut of meat, you're in for a meal that will be memorable and oh, so delicious.
"When you have the name steak house following the name on your restaurant, you know people are coming in for a quality steak dinner," noted Johnson. But it is much more than the steaks that bring people in to Montana Steak House. Every item on the menu is prepared, hand-made, fresh, right in the restaurant. That means everything—even the salad dressings are handmade. Johnson has the motto, "First in, last out," and he really enjoys the freedom of coming in and creating quality specials without the restrictions of a chain restaurant. "The only regular menu item we feature is our Clam Chowder soup on Fridays and the Beef Stroganoff on Sundays. The regulars expect it." And, Johnson noted with a smile, "All those soups and the stroganoff are also made from scratch in the restaurant."  And, of course, Friday and Saturday is always a crowd pleaser with slow roasted, sliced to order prime rib.
Johnson has been at Montana Steak House for over five years and learned his profession in a restaurant owned by his mother in California. Johnson, who has no formal training in the restaurant industry, really feels that learning hands-on is the best way to master a trade. "I started busing tables, washing dishes, the basics, in my mom's restaurant. I actually started line cooking when I was 12 years old, so pretty much I've been cooking my entire life. I'm constantly perfecting my skills in the kitchen."
Johnson also spent some time cooking at Havasu Springs in Parker before relocating to Lake Havasu with his mom. Johnson enjoys spending his spare time with his family, including his son and step-daughter. When asked who does the cooking at home, he stated that he does. "I cook more off-the-wall things at home and more pastas as we're not really a pasta place at Montana Steak House.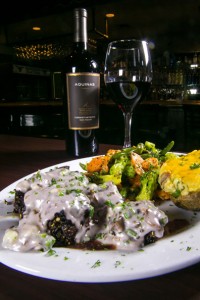 Always enjoying adding new things at the steak house, Chef Johnson likes being hands on with everything and getting the job done. While steaks are the specialty at work, Johnson notes that they also have a very enjoyable seafood offering including fresh Sea Bass, Halibut, and Salmon (as available). They also offer poultry and White Marble Farms pork entrees along with a full bar including beer and wine. "Basically, Montana Steak House offers classic American cuisine in a casual and comfortable atmosphere. The fact that we hand cut our own steaks and then cook them to perfection makes every meal the freshest, best tasting it can be," notes Johnson. "The fact that I really love my job is something that I hope really shows."
Montana Steak House
3301 Maricopa Avenue
Lake Havasu City, AZ
928.855.3736