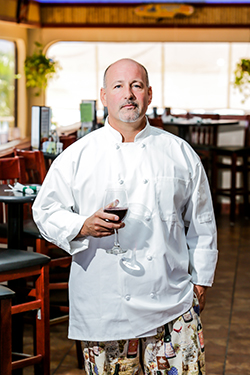 John Andreola is no stranger to the kitchen. As a child in Elizabeth, New Jersey, he was always at the stove asking questions and learning tricks of the trade from his Italian family. Andreola moved here about two years ago from the coast of North Carolina and is enjoying every minute of being in Havasu.
Starting out in a small bistro, Andreola worked with a talented French chef and Japanese cook. This is where he learned the basics of cooking in a restaurant and picked up his skills with a knife. Once he became a chef, he moved into positions such as food production manager with the Marriott, Ramada Inn, and Holiday Inn. He has even been in charge of long celebration banquets at Camp Lejeune and Cherry Point in North Carolina. "There's nothing like feeding 500-1,500 Marines a day for three weeks straight," notes Andreola.
Although he is the head chef at The Turtle Grill, his technical title is Food and Beverage Director. "Being a chef involves so much more than cooking, and working at a resort property is more unique and has more challenges than working at a regular restaurant." notes Andreola. "We have three restaurants and bars to choose from—WET, our outdoor palapa bar by the pool, the Turtle Beach Bar, for casual outdoor dining, and the Turtle Grill, open seven days a week."
When asked what his favorite part of being a chef in Havasu is, Andreola said, "I love the diversity of Havasu. Because this is a vacation town, there are so many different people that come through, which means we get to change the menu up all the time. And there's nothing better than talking to the guests and getting the positive feedback. Seeing people enjoy what my team creates is extremely gratifying."
So, as you can see, the Nautical Beachfront Resort offers something for everyone, and John Andreola is prepared to make your experience an unforgettable one, not matter what you're in the mood for. With his extensive knowledge and experience in the kitchen, you're guaranteed to have an incredible meal, and maybe a few laughs along with it.
The menu was last updated about 6 months ago, and business has been booming. Stop by The Turtle Grill and see what John Andreola's serving up. You're sure to see his passion as he greets you with a smile and a great sense of humor.