Inspiration can come in many forms. When it comes to inspiring people, many people might automatically think of volunteers who travel to foreign countries to help the hungry or a sports player who has come out of the depths of poverty to become a multi-million dollar star. But what about our kids – the children who are around us everyday, doing amazing and remarkable things? Two inspiring young members of our community are Aubrielle Harris and Kole Cramer. With humble demeanors, tons of determination, and extreme talent, these two are guaranteed to find a place in your heart and inspire you to do great things.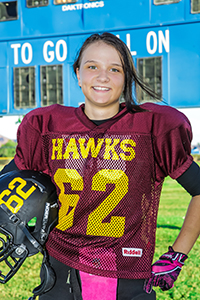 Aubrielle Harris, or Aubie as most people know her by, is not your typical Havasu girl. At 13 years old, she's not interested in makeup or having that perfect outfit for the first day of school. Instead, Aubie has spent the past five years building quite the following as Havasu's only female football player.
Of course, her mom was not crazy about the idea when Aubie first showed interest. They agreed that Aubie would play flag football for a year, which ended up being two, and then she would move onto tackle football. Aubie immediately fell in love with the sport.
During her first year playing with Pop Warner, Aubie's team won every game and even scored 226 to 6 during one game. Since then, Aubie has been a member of a winning team. On October 2, Aubie scored her first touchdown, causing quite the commotion from the opposing team.
Just as anyone who tries to break the traditional way of things, Aubie has met her share of obstacles along her journey. She has been faced with taunting jeers from players, not only on opposing teams but on her own team as well. Even the coaches had a difficult time accepting a girl on their team. In the beginning there was a strong mentality that girls didn't belong on the football field. Aubie has been pushed around, treated unfairly, and judged by parents and teammates alike, but she didn't let that stop her. Through it all, Aubie has stuck to her guns. She has remained true to herself and what she loves. Now, all the coaches want her on their team. Now Aubie has many fans, but her biggest one is her mother, Amber. "Some people wait their whole life to meet their favorite football player. I raised mine."
Football isn't the only extracurricular activity Aubie enjoys. She is also involved in softball, skate boarding, biking, is a flag bearer in the Color Guard, and is a Lance Corporal in the Young Marines. She maintains a strong GPA and aims to run for student council once she moved into Lake Havasu High School (where she will also be trying out for the football team). She enjoys community and school functions.
When asked about her future plans, Aubie says she would like to get into the team management side of football. She realizes that she's not able to keep up with the guys in size as they grow, and she is able to accept that. That doesn't mean she wants to give up on the sport though. Her love of football will undoubtedly keep her on the field in some way. No matter what Aubie decides to do with her life, we can all agree that she will excel and succeed.
Aubie may only be 13 years old, but she has a determination and will that we can all learn from. Setting an amazing example at such a young age, there is no doubt that Aubrielle Harris will do great things in and for this community as she grows. Hats off to you, Aubie!
Of course, we couldn't have an inspirational youngster on land without having one on our magnificent lake. Kole Cramer is also something of a big deal. At 12 years old, Kole Cramer is the ISJBA World Champion (junior class)!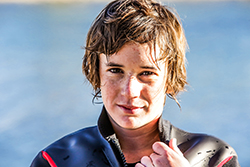 Kole has always been into extreme sports. He participates in cross country and track, goes mountain biking, and raced BMX for eight years. Growing up, Kole's dad, Lance, would take him out on his jet ski. Kole always enjoyed it and, six years ago, decided to take the sport up on his own.
Recently, Kole decided to begin competing… just for the fun of it. In September he won 1st place in the junior class in the King of Body Beach competition. In October, during the ISJBA World Championship Qualifiers, he came in 2nd place in his class. During the ISJBA World Championship, Kole competed against five other countries. Not only did he take home the Rookie of the Year Award (part of ISJBA's Junior Stars program), but he is also now the ISJBA World Champion in the junior class quite the accomplishment for a 12 year old! Having participated in three competitions, and winning top honors in all of them, it's clear that Kole was born with a natural talent.
Watching him out on the water doing what he loves, it seems that anyone could go out and look good on a jet ski, but Kole explains that there's more to it than just standing up and holding on. "You have to be in really good shape to race jet skis. Keeping your balance is the hardest part, but racing BMX's helped me with that."
Although Kole definitely has water and speed on the brain, he knows that in order to do what he loves; he has to do well in school. "All of this stuff is expensive. The gear, the gas…it costs a lot to maintain. Kole does his part by getting good grades. If he doesN't get good grades, then he doesn't race",explains his mother, Amy.
Kole's goal for the future is to uphold his title as World Champion, and possibly to go pro. Luckily there's a local program in place to help young racers, like Kole, to meet professional racers as well as make strong connections that will surely help him later in his career. The Junior Stars program is funded by the ISJBA and racing businesses from around the world.
So, no matter if you're into riding jet skis, racing them, or would rather have your feet firmly planted on the ground, keep your eye on Kole Cramer. His big heart, humble personality, and unfaltering determination are things anyone should aspire to mimic. He is an amazing kid and Lake Havasu's next big talent!