Rock, country, jazz, blues—no matter your taste in music, you'll find a diverse collection of local performers that will have you rocking the night away on the dance floor. Here are just a few of those talented musicians…
Crosscut, Rock and Blues
This band is composed of Nic Roberts, the lead vocalist and occasional rhythm guitar player, Anthony Cunningham, lead guitar and back-up vocalist, Larry Thomas, bassist and back-up vocalist, and Ben Macy, drummer. Their music can be heard throughout town, and they have performed at the Flying X Saloon, Pennington's Pub, The Office, Topock 66, and other venues.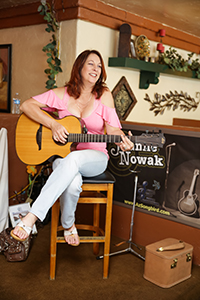 Jill Trenholm & The Boyfriends
Jill is an accomplished singer/songwriter from Sheridan, Wyoming. In addition to collaborating with others musically, she has spent several years playing at coffee shops and small clubs to house concerts and amphitheaters as well as working as a freelance artist for large companies like Disney and Teleflora.  Local venues include Javelina Cantina.
Kevin Jaxon & Midnight Sun, Country, Dance, Funk, Hip Hop, Rock
An amazing 5-piece Funk/R&B/Top 40 dance band, catering to local clubs, special events, corporate events, charities, casinos, festivals, and more. They cover material from 70s funk to all your current Top 40 radio hits. The chemistry between these five talented musicians is simply electric and their show is a must-see event. They have an extensive local presence and perform at various venues around town.
Littletown, Country, Southern Rock
Littletown was formed in the summer of 2006 by the efforts of Charlie, his brother, John. They both had influences of country and rock music in their youth. Charlie came from a rockin' band, Electric Rattlebone, and even played for President George Bush Sr. Band members include bass player, Ross Chavez, and lead guitarist, Ray Gunn. Find out more at Reverbnation.com/littletown.
Matt Farris Country, Southern Rock
Homegrown country and western performer Matt Farris is no stranger to this area, performing at numerous venues throughout the tri-state. His first single, Redneck Radio, saw placement in both the Billboard Indicator and Music Row charts, as well as holding a position at #1 on the Indie World Country chart four weeks in a row in 2012 going into 2013. His 2nd single, Resident Redneck, continued to ascend the charts and was nominated for industry trade New Music Weekly's New Music Country Single of the Year Award.
Sidewynder, Country Rock
This band covers legends like Patsy Cline and Johnny Cash to Nashville's current stars like Jason Aldean and Miranda Lambert.  They will also tailor their set style to fit the audience by interjecting their "Sidewynder Spin" on favorite rock and funk classics. Whether your event is a sawdust-on-the-floor barn dance or a black-tie-and-boots ball, book this group and hold on tight! Catch Sidewynder at the Flying X Saloon.
To find out more about the bands and performers listed above, and others, check out Facebook and Reverbnation.com.