Trying to define art can be a lesson in futility—art, they say, is in the eye of the beholder. We caught the attention—and the eye—of several local artists as they demonstrate that art can be many things, but most of all art can be anything that you have a passion for and are willing to share with others.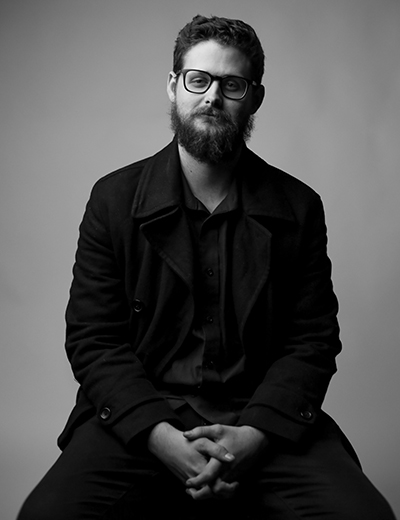 "As a guitarist, I was always enthralled with Angus Young."
Kyle Roberts is a native to Arizona, even though life has taken him on many travels from New Hampshire to Grand Junction, Colorado. Now living in Lake Havasu, Kyle has a passion and an ear for music, starting to play music at the age of 13 and working professionally at the tender age of 17. "I remember a time when I was very young, telling my mother that music was the only thing that mattered. It doesn't matter where you are, a store, a house, outside—there's always music playing. It was more than a language to me, it was something like love that connects us and keeps us safe."
Heavily influenced by Jack White and Joe Purdy, Kyle notes that they both were wonderful musicians that could construe a message without too many words. "As a guitarist, I was always enthralled with Angus Young. I also have an extreme love of Irish and Gaelic music."
Kyle is currently in the band called The Borrowers—a type of open indie rock band. "We can fall on the side of funky fairly often. I sing and mostly play both electric and acoustic guitar. I also play (on my own) piano, ukulele, mandolin, and cello to name a few. But guitar is my favorite. I resonate very well with a guitar and it resonates with me. I write and sing my own music. I like to take time and care about the messages I'm portraying."
In the next five years, Kyle sees himself on the road, spreading the word of music and love with good friends that he can play with. "I'm lucky to be where I am, and I'm excited for what may be. Truthfully, in the life of a musician, it's very hard to find a legitimate time frame for the future, but I am certain, because I can feel it, a wave is about to crash, and I've been on my surfboard just waiting for it."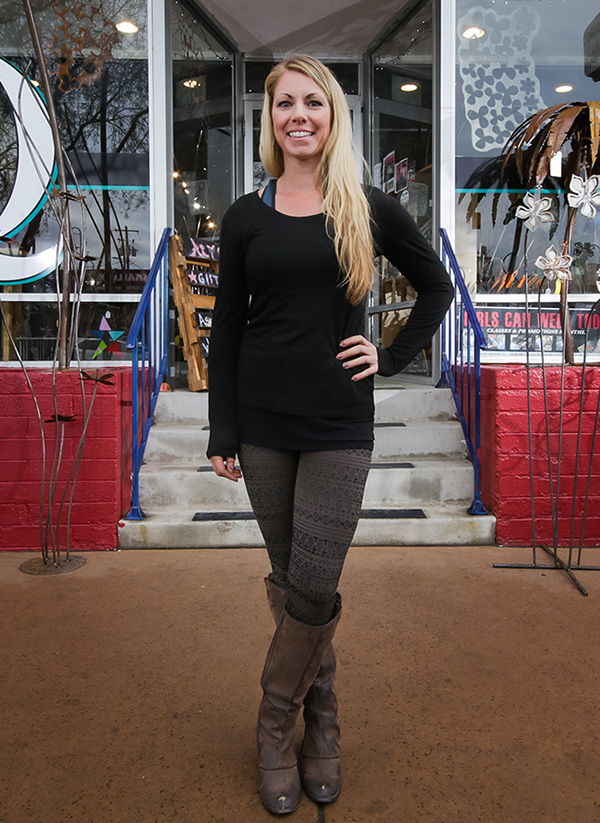 "I always knew I wanted to do something creative."
Jaque Meng has managed to capture her passion as an artist and successfully parlay it into a successful business. "I had no one in my family who was an artist," she said. "I grew up in construction, but I guess I always knew I wanted to do something creative. I just didn't know what." Always intrigued by working "big," Jaque has welded her way into some very large, commercial projects that can be seen around Havasu. She has designed custom work for Los Lagos I to custom sculptors and signage for Agave Azul, the newest Mexican restaurant in town.
Jaque also has a passion for interior design and has sculpted custom pieces for satisfied clients that search out her work for the interiors and exteriors of their homes. "Every piece is different in design and created to compliment and give a sense of individuality to a person's home. "explains Jaque.
Her other passion is making available space for other local talent to showcase their designs. The Q Art Gallery at 2102 McCulloch Blvd. has been open for a year now and features pieces in a variety of mediums from 28 different local artists. And Jaque doesn't stop there, offering classes for budding artists that want to explore and develop their artistic talents. Her "Girls Can Weld Too" classes not only teach welding to participants, but also teaches them how to take various metals and combine them into works of art. One of the newer mediums Jaque is experimenting with is working with reclaimed pallets, turning them in to functional works of art. "We figure out ways to redesign and paint pallets so that they are true works of art."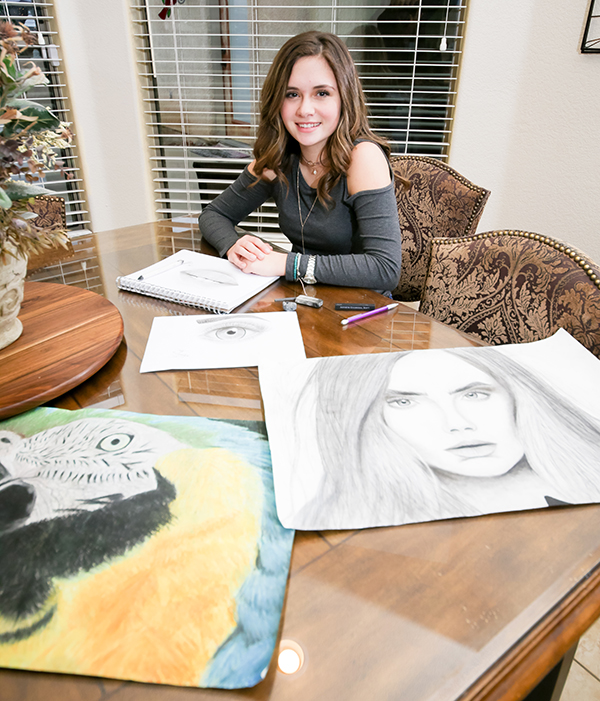 "I like to draw when I'm bored or on a rainy day."
A freshman at Lake Havasu Senior High School, Taylor Furnell enjoys the arts. "I just like to draw for fun," states Taylor. At an early age, Taylor had a keen interest in fashion and would draw various outfits. Over time, she has moved on to drawing human features and animals.
"I'm interested in learning how to draw using shadowing and various other techniques." Working with various mediums, including charcoals, Taylor has learned a lot of her techniques from watching videos on the internet. "Now that I'm in high school, I'm in art class and can learn hands-on various art techniques, and that's exciting." I'm taking intro to art right now and have Mr. Robertson as my art teacher."
"I'm very interested in anatomy, and I enjoy drawing eyes and lips. It has led me to an interest in wanting to learn more about painting and sculpting." Right now, she definitely draws for fun and enjoys drawing on days when she is bored or on rainy days when she is stuck indoors. "But I do have other interests—I like math and have an interest in nursing," states Taylor.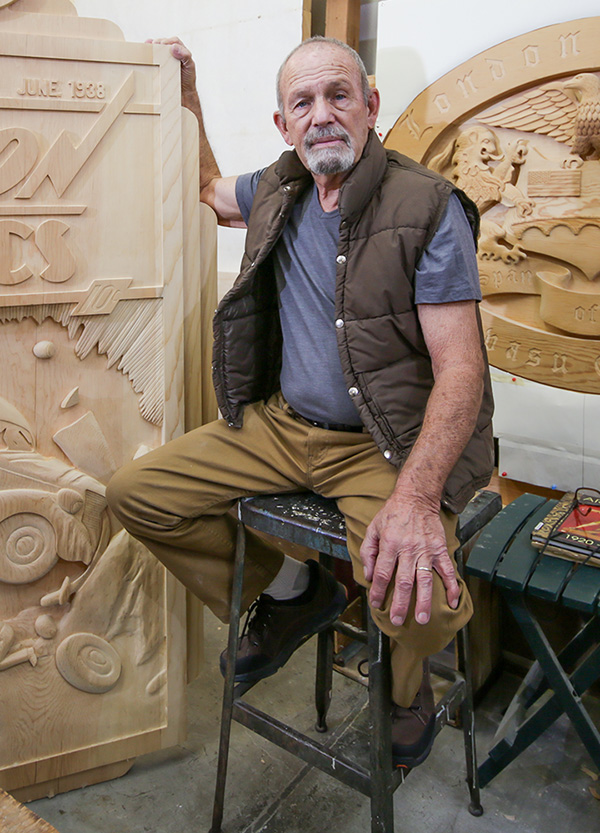 I started in the early 1960s, carving wooden Tiki statues.
Dale and Vicki Webster have been married for 49 years and have been in Havasu since 1972. Originally from Hollywood, California, the Websters were very active in bass fishing after moving to Havasu. "Back in the day, Vicki and I won a number of tournaments. We were quite the bass fishers," notes Dale. But Dale's true passion has recaptured his imagination during his retirement years—woodcarving. "I started in the early 1960s, carving wooden Tiki statues."
One of Dale's most prominent works locally is the large, hand-carved piece that is on display behind the check-in counter at the Queens Bay London Bridge Resort. Another large piece carved by Dale was from a large cottonwood that was cut from the bottom of Lake Havasu back in the day.
Currently, Dale is working on massive pine planks, spending months on a single project. His first examples include a number of classic comic book covers such as Superman #1, Detective Comics #27 featuring the first appearance of Batman, and Amazing Fantasy #15, the first appearance of the Amazing Spider-Man. "I love working with wood and I chose the comic covers because the artwork is so clean and dynamic—it really looks great when it is finished."
Dale is passionate about his work and notes that his desire has been reignited because of the new tools available to him. "In the old days, I would carve out the wood using a chisel and mallet. Today I use a Dremel, and it makes things go quicker while making a smoother line. I don't know anyone else doing the type of work I'm doing today."