Every Tuesday and Thursday an amazing act of kindness takes place at Our Lady of the Lake Catholic Church. Roberta Watkins and several other volunteers get together to create a delicious, hot, home cooked meal for those in need within our community. Of course, anyone can stop by and take part in the fellowship—no one is turned away.
The items needed to serve the 1,200-1,400 meals a month come from donations made by St. Mary's Food Bank, various grocery stores, and wonderful, giving members of the community. Our Lady of the Lake has been host to the Soup Kitchen for the past nine years. Not only do they provide a place for people to relax and enjoy a hot meal, they also provide food for attendees to take to help them out on the days the Soup Kitchen is not open. From bread to carrots, milk to delectable desserts, these volunteers do their best to ensure no one in this town goes hungry.
The volunteers at the Soup Kitchen work hard to make each day a success. There are cooks, waiters and waitresses (it's all done restaurant style), bussers, and dishwashers. Everyone takes part in every process, working as a well oiled machine to provide kindness and compassion. We all fall on hard times during our lives. It's good to know there are such gracious and wonderful people to lend a helping hand.
If you would like to help make a difference, contact Supervisor Roberta Watkins at (928) 412-7684.
You will have to take a Safe Environment test and Food Handler's Course, but it's at no cost to you if you're volunteering.
Fill 'Er Up!
This program was designed with children in mind. Food4Kidz receives grants and food donations from the community, which is then sorted by volunteers. It is then distributed to schools here in Havasu. A school liaison, one designated for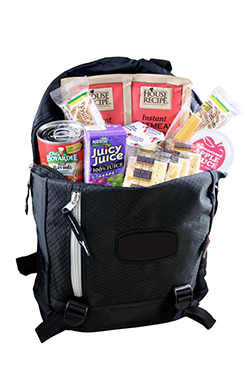 each school, discreetly watches the children to see who might be in need of a little extra help. At the end of each week, those children go home with a bag of goodies. In order to keep this program going, they desperately need donations from the community. Children perform at their best when their nutritional needs are being met.
To help out, take food items to:
Haven Family Resource Center,
2174 McCulloch Blvd.