Sedona is a town about 120 miles north of Phoenix, Arizona. It's located in both Yavapai and Coconino counties and is surrounded entirely by the Coconino National Forest. Known for its beauty and serene setting amidst the stunning crimson terrain, Sedona is one of Arizona's most popular destinations. The picturesque town has a population of about 12,000 and is 4,500 feet above sea level.
Sedona's location at the base of the Mogollon Rim, enclosed by captivating natural crimson sandstone monoliths, inspire some to say it's the most beautiful place in America. The incredible blend of red rocks, singing birds, cool waters and all the different colors of wildflowers in Sedona create a masterpiece of nature around each bend. There is little wonder why the awe-inspiring views and breathtaking beauty surrounding the town stir feelings of awe in its visitors.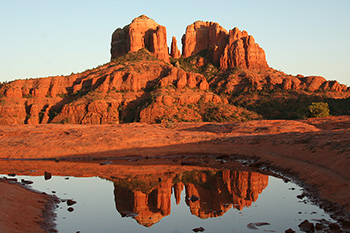 Sedona is surrounded by red-rock monoliths named Coffeepot, Cathedral and Thunder Mountain. At the north end of the city is the stunning Oak Creek Canyon, a breathtaking chasm that is wildly wonderful with its own dramatic beauty, swimming holes, natural rock slides and camping in its cool forest.
The quaint town is set amongst towering sandstone cliffs that truly glow with an energized red hue. The area – often called "red rock country" – is prominent for its effervescent arts community with close to 100 art galleries that offer many varieties of art in all price ranges. The stunning natural beauty of the area combined with its relaxed atmosphere has drawn many artists to the town.
If you arrive in Sedona via Highway 179, you will be visually awestruck by Bell Rock on the north side of the road. Bell Rock and Cathedral Rock are two popularly photographed features of Sedona's red rocks.
US Highway 89A, through Oak Creek Canyon, was Arizona's first designated scenic highway and was named by Rand-McNally as one of the most beautiful drives in America.
At an altitude of 4,500 feet, Sedona misses the searing heat of the lower deserts and receives an occasional dusting of snow in the winter. The beauty and climate of the area makes sightseeing, hiking, golf, tennis, horseback riding and jeep-touring year-round activities.
However, what is now a bustling tourist attraction and artistic community was something much different at the turn-of-the-century.
Sedona began as a small, remote ranching and farming settlement in 1876 when the first permanent settler, John James Thompson, settled on property in Oak Creek Canyon, claiming it under the 1862 Homesteaders Act. By 1902, 20 families lived in the settlement and a postal station was petitioned for by Theodore Schnelbly. The petition was granted and Schnelbly named the new post office in honor of his wife, Sedona.
The remote agricultural community was well-know for the quality of its fruit, especially the abundant apple orchards. But as the scenic wonders and sites of Sedona became known, tourism surpassed agriculture in economic importance.
In 1950, surrealist painter Max Ernst moved to Sedona, and other famous artists followed. Many artists have been attracted to Sedona and its rugged beauty which is said to enhance their creativity. Over the years, an artist's colony has developed in Sedona and many of the artists sell their work in local galleries and shops.
Sightseeing opportunities in Sedona are plentiful and diverse. The beautiful city is a four-season playground for everyone. It offers excellent outdoor adventures, including mountain biking, hiking and off-roading. Whether you're into history and archaeology; arts and culture; shopping; outdoor sports; or the spiritual and metaphysical, imagine doing all this in a backdrop of some of the most spectacular scenery in the world. Tourist attractions include museums and art galleries, amusement parks, National and State Parks, historical places, sporting events and festivals. There are never-ending shopping opportunities and enough recreational activities to gratify any nature lover. Want to get away from it all? Stunning Sedona has several places to find seclusion and solitude. The city will unlock powerful creative energies and arouse your imagination.
In Sedona you can go on a narrated star gazing trip, bike, go bird watching, take a pottery or art class, fish, take a Native American-led hike, or play golf on any of the first-class resort courses. There's even a natural water slide at Slide Rock State Park. Boynton Canyon is another area of beauty in Sedona, where cliff dwellings from centuries ago can still be seen on the canyon walls.
Natural endowments aside, you'll also find world-class hotels, resorts, bed and breakfasts and a very good variety of dining to keep you satisfied, with something for every taste and price range.
Things to Do
Adventure Trips/Tours – See the Grand Canyon, Painted Desert, Historic Trading Post, and more. Adrenaline junkies and fair weather outdoor enthusiasts alike will walk away thrilled.
Hiking – Year-round hiking on maintained trails makes Sedona a hiking mecca; spend a day or even a few meandering through the trails of the area.
Mountain Biking– Numerous trails are maintained for mountain biking. Peddle your way through the beauty of the lands found here.
Jeep Tours/Off-Roading – Sedona is home to numerous Jeep tour companies. Spend a day off the paved road getting down and dirty.
Fishing – Oak Creek is regularly stocked with trout in the summer.
Horseback Riding – Local stables offer trail rides and tours on horseback through the beautiful red rock country
Golf – Swing away on the immaculate courses found nearby.
Tennis – Contact Sedona's Chamber of Commerce for more information.
Boating/Swimming – Spend a day of sun and fun on the inviting waters found nearby.
Shopping – Sedona is well known for its art galleries, boutiques and shops, which display Western and Native American arts, crafts and fashion.
Cross Country Skiing – Get a great workout and great views of the winter wonderland found here.
White Water Rafting – Navigate the tumultuous rivers of the state and feel the rush!
Rock Climbing – Explore climbing areas for new routes or enjoy the existing climbs, fun either way.
Balloon Flights – Get a birds-eye view of beautiful landscapes from the basket of your very own hot air balloon.
(http://www.go-arizona.com/Sedona/recreational-activities/) (http://www.desertusa.com/Cities/az/city_sedona.html)
As the sun tracks across Sedona's Navajo-turquoise-blue skies, the ageless mountains, spires, boulders, trees and occasional intermittent waterfalls that surround Sedona will display more colors than any ambitious rainbow.
Visit the stunning array of red sandstone, mudstone and limestone formations that glow brilliant orange and red when lit by the rising or setting sun. Escape the chaos of life, kick back and relax in Sedona.