Lions, Tigers, and Bears, Oh My!
That may have been a famous line from the original Wizard of Oz movie released way back in 1939, but it's also what you'll say (and some of the animals you'll see), when you visit the Keepers of the Wild Nature Park located in Valentine, Arizona. Surprisingly, this wonderful wildlife preserve is located just 89 miles from Lake Havasu City. Unlike anything you'll find in the immediate area, this amazing facility is perfect for young and old alike. You'll be educated and entertained by the one-hour guided tour by tram, or you can enjoy a self-guided walking tour. And as the weather heats up, the climb in elevation to Valentine means 10-15 degree cooler temperatures.
The park is home to over 150 animals, including 40 which are classified as endangered or threatened under the Endangered Species Act. These animals include a jaguar, lion, tigers, leopards, cougars, primates, wallabies, wolves, reptiles, birds, hoof stock and a variety of indigenous wildlife. Most of these animals have been rescued from abusive environments including circuses and the entertainment industry. The animals at the park are allowed to live out the rest of their lives being well cared for at the nature park.
While the property consists of 175 acres, there are currently 66 acres developed as habitats for the animals. Regulated by such entities U.S. Department of Agriculture & Interior, and the Arizona Game and Fish, this 501(C)(3) nonprofit organization, strives to provide the best standard of care while helping to enforce the humane treatment of all animals.
Keepers of the Wild was founded in 1995 by Jonathan Kraft, a former producer, creator, and performer in Las Vegas. Jonathan worked on a multi-million dollar production on the Las Vegas Strip. The show Jonathan was working on stayed in pre-production for three years while he presided over choreographers, showgirls, musicians, set designers and a small menagerie of exotic animals. Johnathan left the business soon after and became an advocate for the wild animals that were suffering from being in the entertainment industry. After encountering some of the most heart-wrenching cases of neglect, abuse, and malicious cruelty, he was compelled to take action. Johnathan is hands-on and runs the day to day operations of Keepers of the Wild. His passion for the rights of animals is evident in not only the way he oversees the facility, but in the dedication and compassion he displays for many wild animals that would have been severely abused.
As a day trip from Lake Havasu, this park is one of the most compelling trips that can be made in one easy day. Seeing lions, tigers, and bears in a natural setting is a once-in-a lifetime opportunity that everyone can and should experience, thanks to one man's dedication to these majestic animals!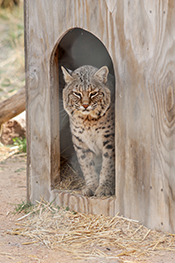 AnnaBelle arrived December 31, 2010. Keepers agreed to take her along with a male bobcat (Claude) and a male raccoon (Seymore). AnnaBelle is a juvenile bobcat that had gotten friendly with a homeowner who had been feeding her. The person intended to get permits to keep her–which is not legal–being an indigenous animal to Arizona. She was successfully introduced to 3 other juvenile bobcats that we rescued in 2010.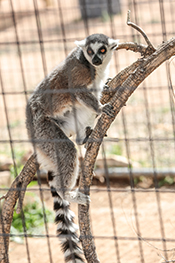 Precious (a Ring-Tailed Lemur), arrived on July 30, 2009. She was first placed at a zoo, where she did not fit in with their resident lemurs, having to be separated from the others. She currently resides in her habitat by the Capuchin monkeys.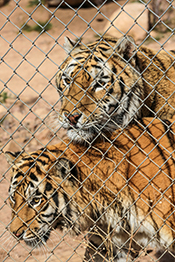 Grace and three siblings, Sebastian, Sasha, and Skylar arrived on November 23, 2003 from a breeding facility for tigers, and were used for photo opportunities in a traveling show. By USDA standards, big cats can no longer work with the public once they become 6 months of age or weigh 80 pounds. This in turn creates a surplus of unwanted cats that are euthanized or end up at exotic animal auctions and are sold to people that want to breed them, raise them for illegal trophy hunts or keep them as pets.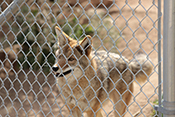 While Lake Havasu is no stranger to coyotes, some people raise them as pets, or try to domesticate them by feeding them. One such coyote is Riley, who was found abandoned at the Kingman airport and brought to the nature park by Arizona Game & Fish. Riley was featured along with her lion friend Anthony, who has since passed away, on a PBS Nature Documentary called "Animal Odd Couples." Riley now shares a large natural habitat with Dominic, her coyote friend.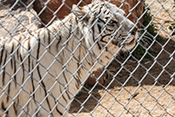 Sebastian is a Royal White Bengal Tiger that that was used at an early age for photos in a traveling show. Sebastian is here with several of his siblings.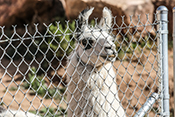 A variety of Llamas reside at the nature park. They reside in the park's Serengeti area where they share the habitat with a number of hoof livestock, including a herd of Fallow deer.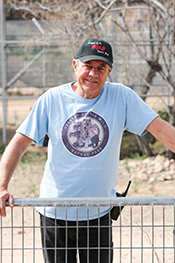 Jonathan Kraft, founded Keepers of the Wild, 10 years ago. He is currently developing a plan to expand by constructing the Wild Planet Animal Sanctuary, a 4,000 acre site that will satisfy the needs of this growing animal population. The first phase of this project will be the development of 1,800 contiguous acres. This pristine land is perfectly suited for the most beautiful natural habitats imaginable, complete with grasslands, mountain ranges, valleys, box canyons, lake sites and much more. It will be located near the Arizona-Nevada border.
Getting there:  Keepers of the Wild is located on Historic Route 66 at mile marker 87. Head towards Kingman on I-40 E, then head out on Historic E. Highway 66 (Andy Divine Road) to mile marker 87 (29 miles east of Kingman.
For more info:
KeepersOfTheWild.org
928.769.1800
13441 E. Highway 66
Valentine, AZ 86437