Dennis Lindgren, head Chef and owner of Krystal's, knows that taking care of business means taking care of the locals. After all, Lindgren just wrapped up his 25th year as owner of Krystal's Steakhouse & Seafood. In Lake Havasu, where there is a plethora of restaurants, he knows that plating up special dishes and offering quality cuisine in a relaxed and courteous atmosphere keeps his regulars around.  Dennis also knows that specialty dishes such as his Dijon Crusted Halibut, served with a compliment of sides is what makes regulars out of first-timers.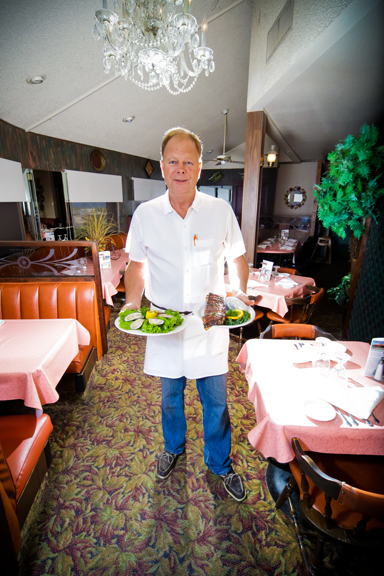 Lindgren has seen a lot of changes in the restaurant business over the years, "I started out washing dishes at the age of fifteen for the Italian Best restaurant in Brocton, Massachusetts. Over a ten year period I learned to cook while doing prep work and other duties around the restaurant." Lindgren also learned more than a few skills during his seven years at a Jewish deli and pub in Randolph, Mass.
Looking to expand his horizons, Lindgren accepted a position as a Chef for the Las Vegas Hilton and headed out on a cross-country road trip from his home in Massachusetts. Arriving three weeks prior to his start date, he decided to spend the time in Lake Havasu City—hanging out, checking out the lake–enjoying the beautiful weather.  As Lindgren put it, "After three weeks in Lake Havasu, and then traveling up to Las Vegas to start my job, well, I didn't much care for Las Vegas and the big city, so I drove back down to Lake Havasu." He's been here ever since!
So it began, in 1981 – Lindgren started his career in Lake Havasu working at a popular local restaurant for $3.50 an hour. Over the span of about five years, he worked at a few other restaurants in town before applying and accepting a position at Krystal's in 1986. When the owner of Krystal's passed away in 1987, Lindgren made the logical transition and purchased the business. A business that he can proudly say he has been running successfully ever since.
"The change in the economy has been the biggest challenge," notes Lindgren, "I've seen this town grow, which doesn't always equate to prosperity—more people means more restaurants and more competition. You really have to take care of your clientele to keep your business prosperous." Krystal's accomplishes that goal by offering quality steaks and seafood at an affordable price. They always offer quality, Choice corn-fed Angus beef aged a good 8-10 weeks and cut fresh daily in their own kitchen.
At Krystal's, everyone, from Chef Lindgren to the wait staff is there to make sure that your dining experience is the most enjoyable experience you can have. The menu has a wide range of mouthwatering dishes, from beef and poultry to crab leg, lobster, and the catch of the day—all cooked up fresh and served to you exactly the way you request it.
[box] Start your evening off with a side of delicious Oysters on the Half Shell featuring large, succulent oysters from Maryland. Move on to the main course—a full rack of Baby Back Pork Ribs, cooked slowly and finished over an open flame, brushed with a special, tangy sauce that's finger licking good.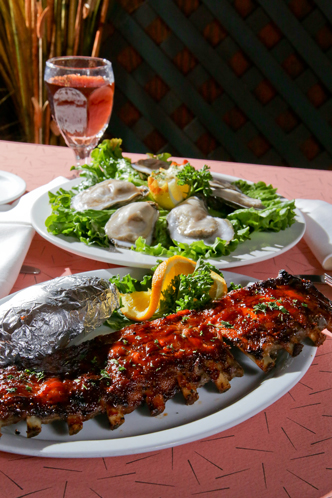 [/box]
From appetizers to full meals, Chef Lindgren is always happy to prepare your meal to mouth-watering perfection. It's the reason the locals love to dine at Krystal's–and once you've experienced the fine dining, it will be Krystal clear why you'll become one of the regulars.
Krystal's
Steakhouse & Seafood
460 El Camino Way
Lake Havasu City
928-453-2999