Today's backyards are an extension of our interiors. Whether you're planning to spruce up the pool area, put in a hot tub, grilling station, or add to your landscaping, these professionals can help you turn your backyard into your own private piece of paradise.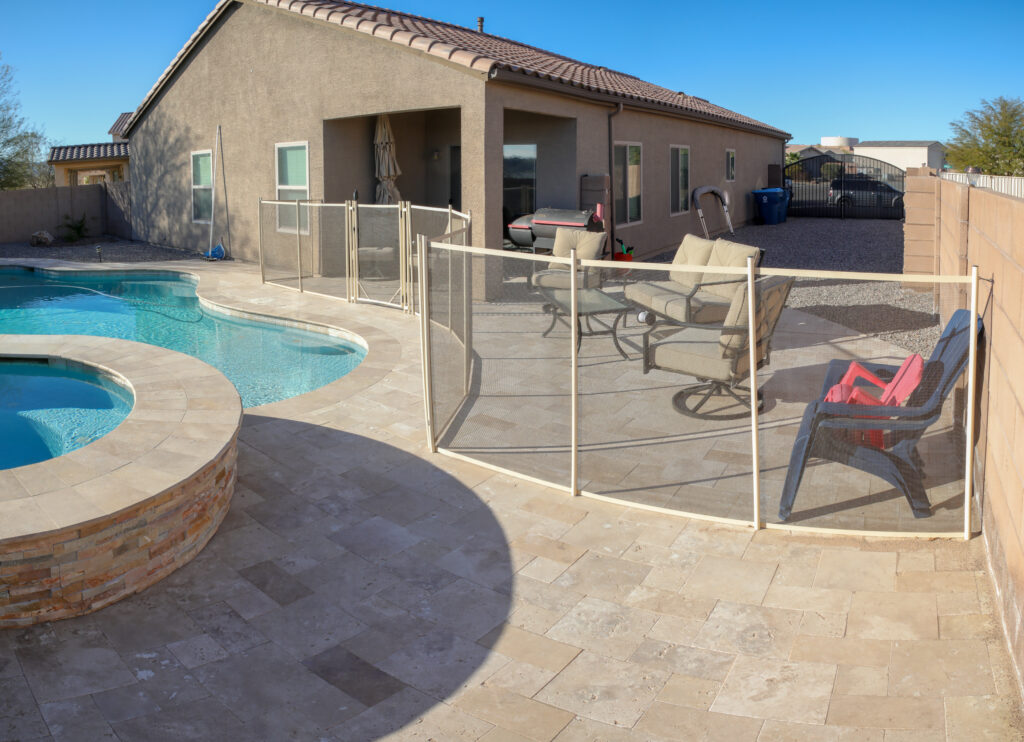 Mohave Pool Fence
Founded in 2018 by Jamie and Kandy Longstreet, Mohave Pool Fence provides an extra level of protection around your pool or spa. Specializing in removable mesh fencing manufactured by Guardian Pool Fence Systems, these sturdy, durable fences help to add an additional barrier between your pool and the rest of your backyard. Have young children? Grandchildren? A dog that can't swim? This fencing system is perfect for you. It can also help meet code height for backyards with pools. The fencing posts install into holes in the ground and holes can be covered with caps if the fencing is removed. This affordable and convenient fencing is ideal to help complement existing fencing or can be used to separate a backyard into various zones. Available in a variety of heights and colors to meet all your fencing needs.
928.733.5077 | MohavePoolFence.com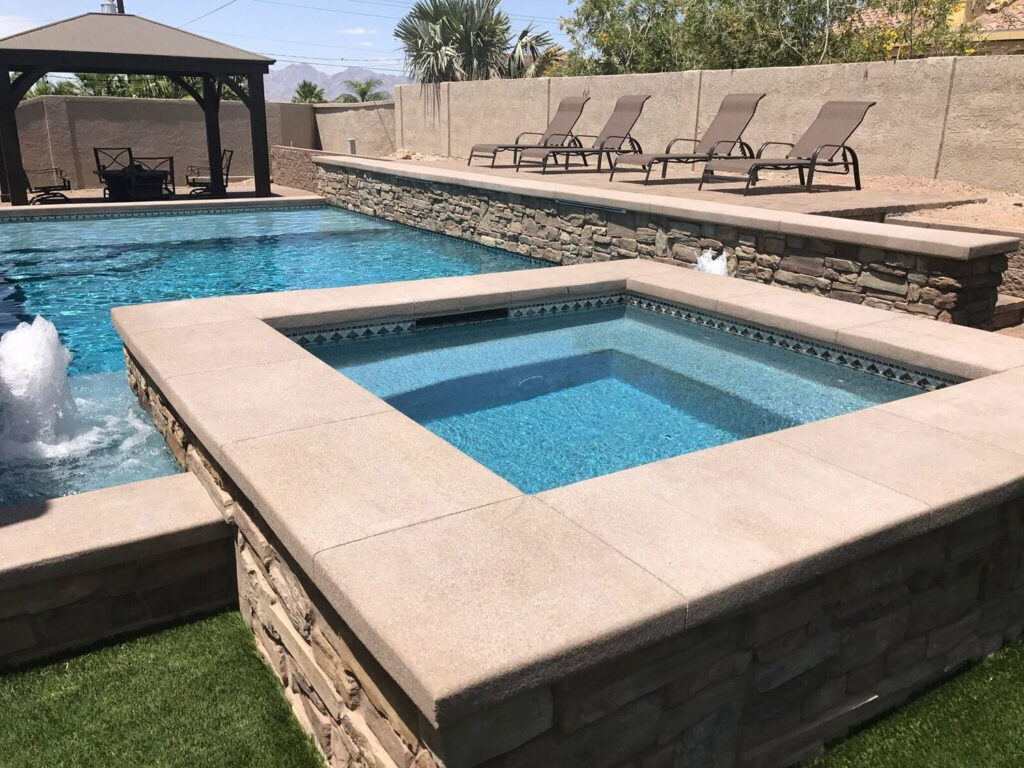 Arizona Decorative Concrete
A full-service concrete and concrete coating business, Arizona Decorative Concrete provides patio extensions, pouring of new slabs, walkways, and pool decks. They also offer concrete countertops/bar tops and concrete fire pits as well as installing cool decking and decorative overlays on existing and new concrete. They also provide waterproofing and decorative coatings for second story viewing decks.
Josh Czarnecky, supervisor and sales person for Arizona Decorative Concrete, says that they have been doing business here in town for the last 18 years. "We are a family owned and operated establishment. We have started a second business called Advanced Garage Cabinets & Coatings, same family, same operators. With Advanced Garage we now offer lifetime guaranteed custom garage cabinets. This is a great compliment to our lifetime warranted epoxy garage floors that we have been installing since 2001!"
Their business plan is to provide customers with the best end-all results using the highest quality of products and top-notch level of professionalism. They strive to earn repeat customers!
2723 Kiowa Blvd N. | AZDecorativeConcrete.com
Mohave Mist & Spa
When it comes to your patio and summer fun in Lake Havasu, there are two things you look for: keeping cool and great barbeques. That's where Mohave Mist and Spa can play a large part in helping you keep your cool! Sam Harrison, owner, can provide you with everything you need this summer; high pressure misting systems, custom outdoor kitchens, fire pits, hot tubs, swim spas, saunas, patio furniture, and outdoor games. Their misting systems can lower the ambient temperature of your patio by as much as much 20 degrees!
They also specialize in the construction of the highest quality BBQ islands and outdoor kitchens and are the local dealer for Bull BBQ, Blaze, Cal Flame, Lion, Bonfire, Memphis Wood Fired Grills, and Saber. If you're planning to upgrade your patio this spring, or plan to have an active summer of fun on your patio, you need to give Sam a call and see how he can transform your patio into the ideal summer location.
41 Mulberry Ave. | 928-302-3500
5599 Hwy 95 | 928-404-9955 MohaveMist.com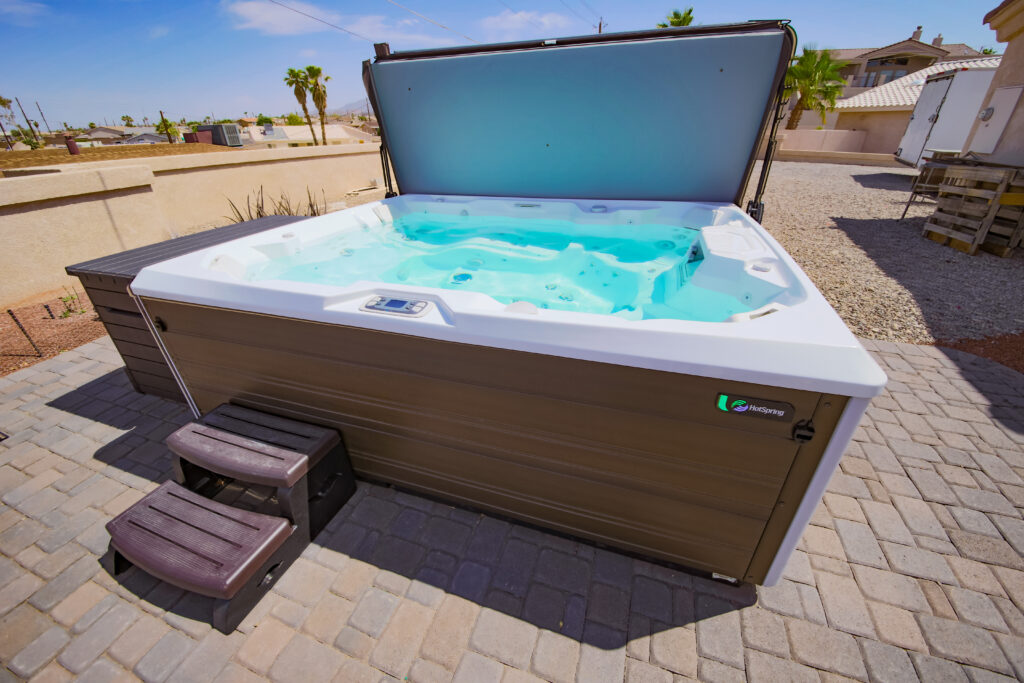 Neat Pool & Supply
With the mantra of Imagine the Possibilities – Every Day Made Better, Neat Pool & Supply knows a little bit about making your backyard into a spa oasis! Manager Mike Hall offers a free backyard consultation to help you realize your dream yard and backs it up with a showroom full of spas from brand names like Hot Spring, Endless Pools, Free Flow, and Bullfrog Spas.
Mike notes that there are many reasons people buy a hot tub – massage, pain relief, entertainment – "But often times our customers' experiences are even better than they ever could have imagined. The real benefits of taking a daily dip in your hot tub might surprise you too." Neat Pool & Supply offers a line of spas that are the pinnacle of design, engineering, and luxury for the ultimate spa experience year-round.
52 Scott Dr. | 928-855-2558 | NeatPool.com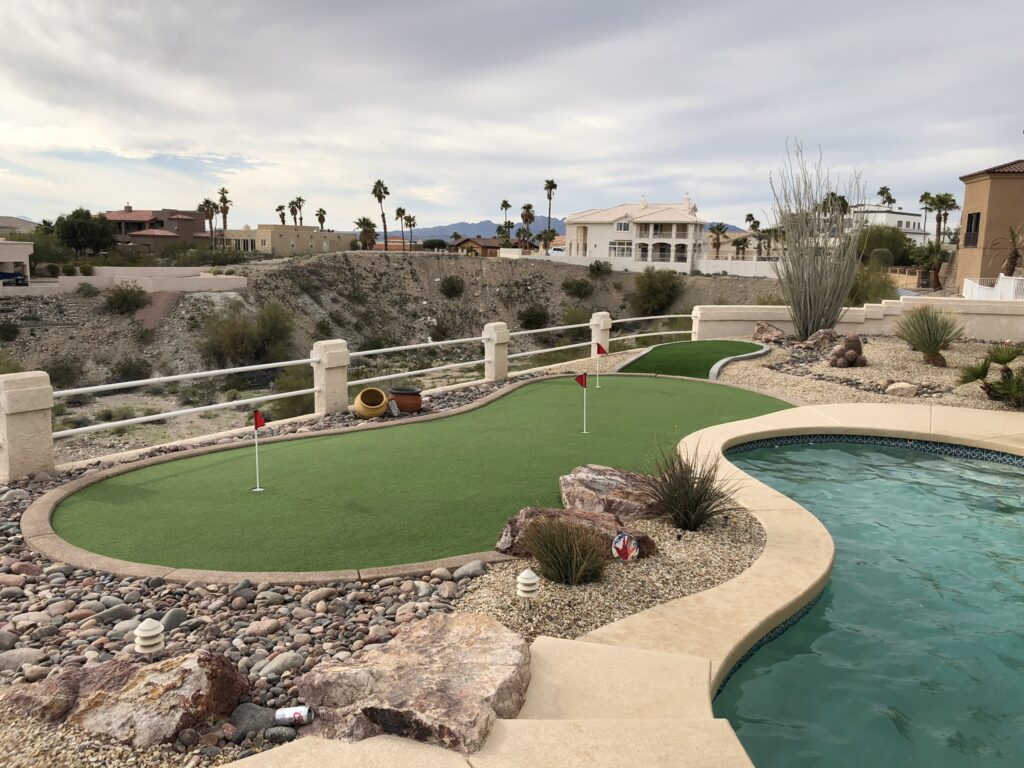 Garitee Landscapes
There's no better time to spruce up your patio, pool area, or over-all landscaping before the hot weather settles in. Specializing in landscaping and hardscaping, Brian Garitee, owner of Garitee Landscapes, offers a wide range of landscaping options from mild to wild. "We offer both new construction landscaping design as well as remodels. Our specialties include synthetic grass, interlocking pavers systems, garden walls, LED landscape lighting, and irrigation systems," states Brian. Want to see just how fantastic your outdoor living space can be before you spend money or even start construction? Garitee Landscapes uses specialized landscaping software to produce digital designs to help you in creating or remodeling your outdoor living areas that you will be proud to call home. Give them a call today and see how they can help you get excited about your backyard living space.
928.208.7188 | HavasuLandscaper.com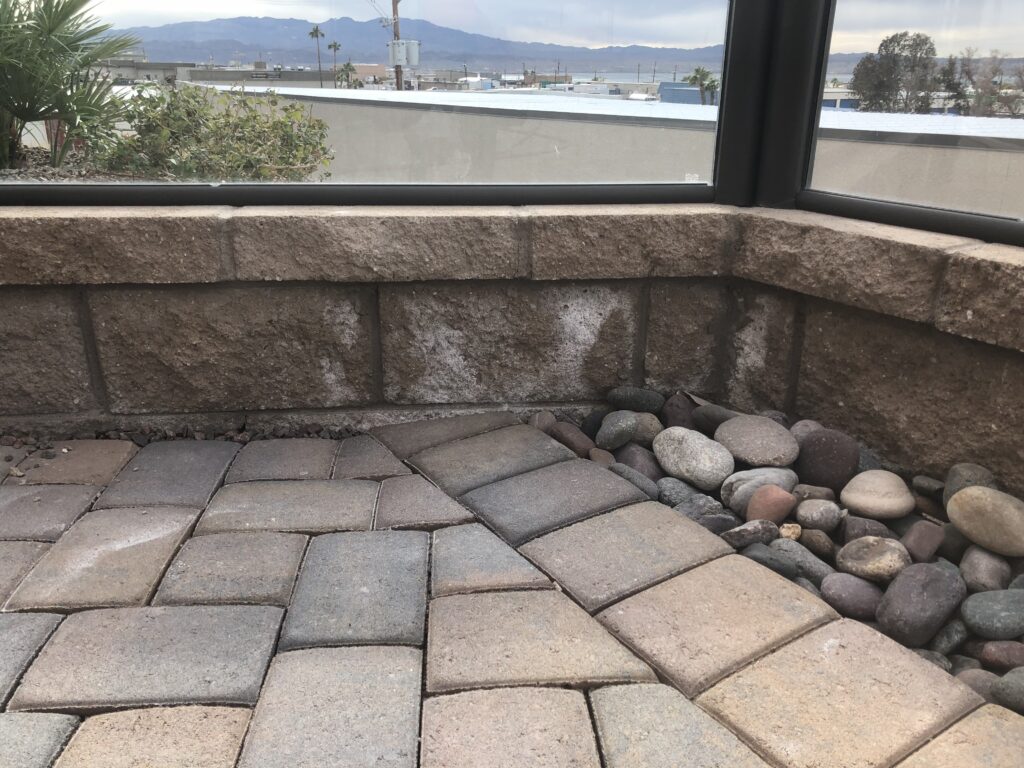 JE Soda Blasting
The hard water in Lake Havasu is legendary—hard water stains, mineral deposits, salt, and calcium build-up are common on pools and spas in the area. There's a reason everyone has a water softener. If those difficult stains and mineral build ups are starting to bug you, there is good news! Jordan Ehgoetz of JE Soda Blasting can help to clear up those problems. They can remove those hard water stains and mineral deposit from pool tile, grout lines, waterfalls, fountains and other surfaces. If you have these problems with your pool, they can have it looking like new again—without having to drain your pool. Best of all, the products they use are 100% bio-degradable and eco-friendly. Call Jordan today for a free estimate and see how they can make all your hard water stains and calcium deposits melt away.
928.230.2024 | Email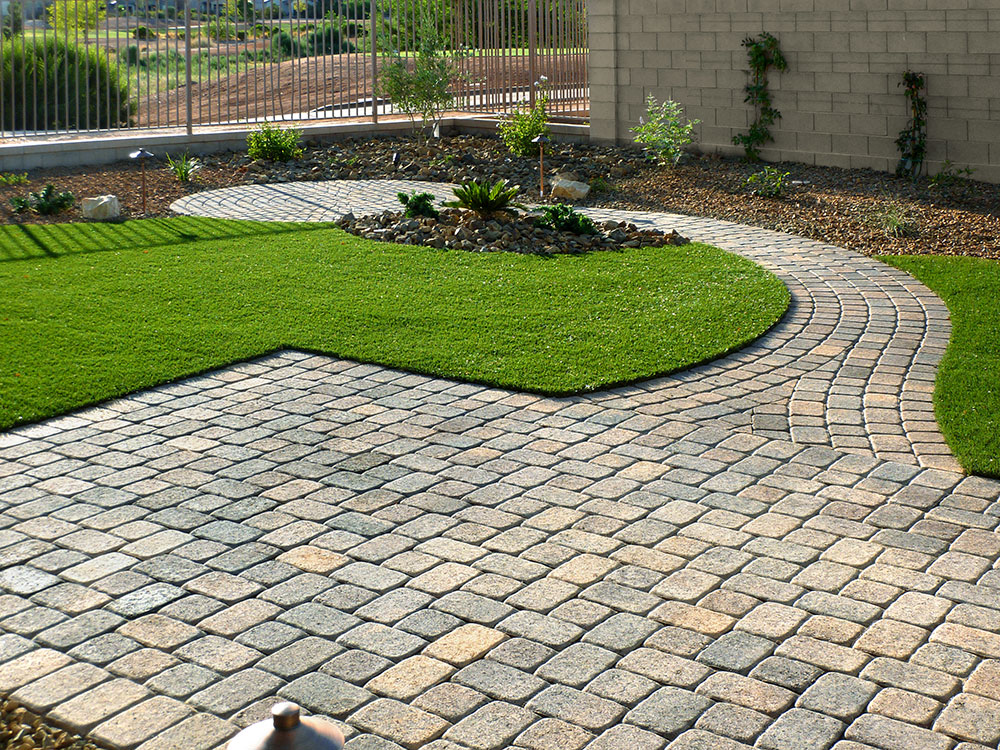 Edgar's Landscaping
In business for over eight years, Edgar's Landscaping can turn your dull back yard into a dynamic paradise. Working directly with the homeowner, Edgar takes their vision and turns it into a reality. Whether it is new home, original landscaping or sprucing up an existing design, Edgar has you covered. He specializes in pavers and artificial grass, as well as tree trimming and palm skinning. If you need irrigation put in place to water plants and trees, he can incorporate that into your design. For all your landscaping needs, give Edgar's Landscaping a call today.
928.230.4136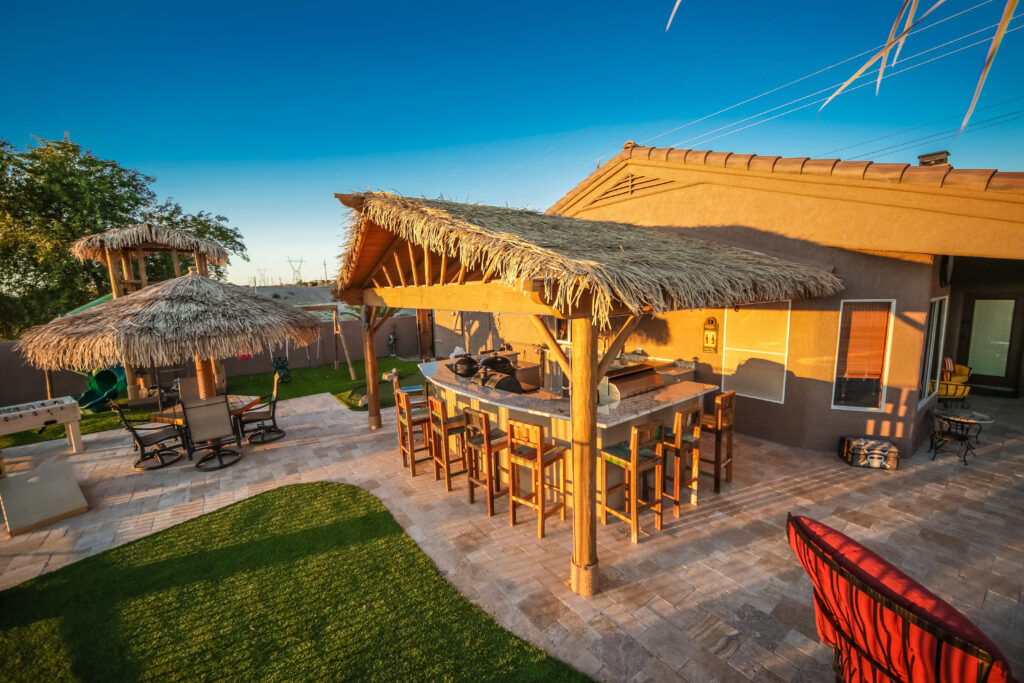 Patio Paradise
Patio Paradise has been helping Lake Havasu homeowners create paradise in their own backyard's since October 2004. Lifetime residents Scott and Ginger Stroup understand the needs of their clients when it comes to bringing the creature comforts of indoor living into play on the outside. Their custom built palapas capture the essence of outdoor living in Havasu with a breathable thatch that allows warm air to escape through the top, keeping the underside up to 10 degrees cooler than the surrounding air. The natural materials of wood and thatch soften and blend with almost any backyard creating an outdoor paradise.
Patio Paradise also offers a full line of durable and fashionable outdoor furniture that looks equally classy poolside or around the fire pit. They feature designs from Tropitone, Ledge Lounger, Homecrest and more. Stop by their store and chat with Ginger and see how they can help you create your own patio paradise!
1701 Mesquite Ave | 928.854.1122 | PatioParadiseLHC.com