By Michelle Gardia
Director of Communications
Lake Havasu City Convention & Visitors Bureau (LHCCVB)
How It All Began
In 1963, chainsaw magnate Robert P. McCulloch was flying over Lake Havasu looking for a place to test his outboard engines. He had the visionary (some called it crazy) idea that the land surrounding Lake Havasu had great potential for an emerging city. Lake Havasu City was established on September 30, 1963 by resolution #63-12-1 as the Lake Havasu Irrigation and Drainage District by the Mohave County Board of Supervisors, making it a legal entity.
After purchasing the 26 square miles that would become Lake Havasu City, McCulloch then enlisted the help of developer C.V. Wood and founded what would be a thriving community. Wood had previously designed a place synonymous with fun – the Disneyland amusement park in Anaheim, California.
In 1964, the land had only one unimproved road into the city. McCulloch needed a way to get prospective buyers to the new city; so he chose air charter. Between 1964 and 1978, 2,702 flights brought 137,000 potential land buyers to Lake Havasu City in a huge sales push that targeted mainly people from colder climates. In 1978, the last parcel of land was sold, and the city was incorporated later that year. By 1981, Lake Havasu City boasted a population of 17,000. In subsequent years, the city experienced population growth at a steady flow of about 1,000 people annually. Most came in search of refuge from big cities, and to enjoy Lake Havasu City's beautiful weather and laid-back lifestyle.
Good Times Continue
What word defines Lake Havasu City? Fun! Even before the town was built, Site Six – the location of the current municipal launch ramp – was where many WWII Army Air Corps pilots spent their R&R time while they were on leave from service, mainly fishing.
Today, fun here comes in many forms– and our residents and visitors love to play. Activities range from boating to hiking, golfing, and cycling, and yes, fishing. On any given weekend (weather permitting), you can see people running along the Channel, paddleboarding on the lake, playing fetch with their pooches at one of the city's three dog parks, displaying their classic cars or having a family picnic at the park.
Other factors that make this a great place to live and visit are clean air, lots of sunshine, low crime and above all, the people. In fact, a 2010 Lake Havasu City Visitor Study showed that 22% of respondents cited "the people" as the top reason they thought of Lake Havasu City as a unique leisure destination.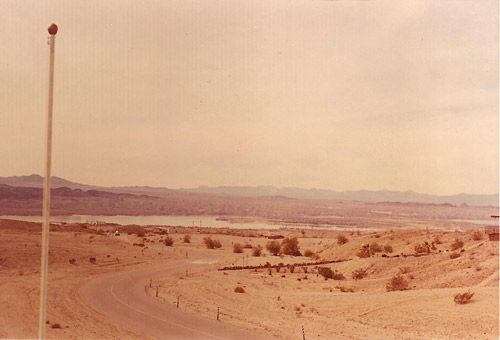 A view of Lake Havasu from Saratoga Ave in the early 1970s
Photo Credit: Photo provided courtesy of Leslie M. Jonson
50 years after Robert McCulloch's initial visit, Lake Havasu City is now home to over 52,000 people and boasts a robust tourism industry that attracts over 750,000 visitors annually. McCulloch would certainly be proud to see that the city he started has evolved into such a vibrant, active community. Lake Havasu City regularly hosts well-known events such as Desert Storm, a world famous boat racing competition, the IJSBA (World Jet Ski Finals), the "Relics and Rods" classic car show, the Havasu Island Balloon Festival & Fair, and other exciting events throughout the year. The city continues to attract new events, such as Thunder on the River, the Lucas Oil Drag Boat races coming this October 11-13.
Havasu Turns Golden – Our First 50 Years
Celebrate the golden anniversary of our paradise in the desert as well as the grand opening of the much-anticipated Patrick Tinnell Memorial Action Sports Complex & Skatepark on October 19 at Rotary Community Park. Festivities will also include the rededication of Rotary Park and the 35th Anniversary of the City's incorporation, plus the annual Fall Fun Fair. There will be displays showing the evolution of Lake Havasu City and many important "firsts", such as the first grocery store, first school, first restaurant and more.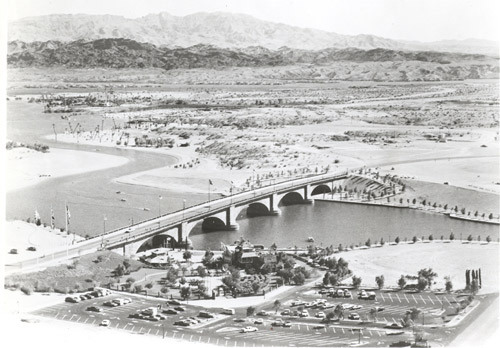 An aerial view of the London Bridge circa mid-1970 showing the sparseness of the development (and vegetation), back in the early days.
Photo Credit: Photo provided courtesy of Lake Havasu City CVB
Event information
Rotary Community Park
1400 S Smoketree Ave
12- 6 pm, free admission
Event Contact: Brian Allen, 928-854-0771
Looking To The Future
What's in store for Lake Havasu City? Though 50 years seems like a long time, our city is still a young one, as cities go. Exciting new developments such as improved signage throughout town, the installation of public art and increased parking in the downtown area, the opening of the new skate park and enhanced beaches at Rotary Park are all indications of a city that continues to grow and thrive.
The Lake Havasu City Convention & Visitors Bureau (CVB) is an independent non-profit agency devoted to promoting our city. The CVB is funded primarily by hotel and restaurant taxes. If you have news about things to do and see in Lake Havasu City, contact the CVB at 928-453-3444. We welcome input from the community and our visitors alike.