Craft Beers Continue to Grow in Popularity
A Guide to Beer Types
Ales
Brewed with top fermenting yeast at cellar temperature, ales are fuller-bodied, and have nuances of fruit or spice and a pleasantly hoppy finish. Generally robust and complex with a variety of fruit and malt aromas, ales come in many varieties. They include Bitters, Milds, Pale Ales, Nut Browns, etc.
Ales are often darker than lagers, ranging from rich gold to reddish amber. Top fermenting, and more hops gives these beers a distinctive fruitfulness, acidity, and pleasantly bitter seasoning.
Lagers
Lager originates from the German word lagern, meaning to store. This refers to the method of storing it for several months in near-freezing temperatures. Crisp and refreshing with a smooth finish from longer aging, lagers are the world's most popular beer.
Malts
Generally dark and sweeter in flavor, malts contain hints of caramel, toffee, and a variety of nuts. They can be light to full-bodied.
Stouts & Porters
Porter is a dark, almost black, fruity-dry, top fermenting drink. An ale, porter is brewed with a combination of roasted malt to impart flavor, color, and aroma. Stout is also a black, roast brew made by top fermentation.
Stout, not as sweet to the taste, features a rich, creamy head and is flavored and colored by barley. Stouts often use a portion of unmalted roasted barley to develop a dark, slightly astringent, coffee-like character.
Check out these popular brews and micro-brews found at some of Havasu's hottest hangouts.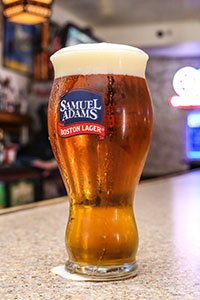 Samuel Adams Boston Lager
Samuel Adams Boston Lager is the best example of the fundamental characteristics of a great beer, offering a full, rich flavor that is both balanced and complex.
No Name Public House
2093 McCulloch Blvd N.
Lake Havasu City, AZ
928.302.1955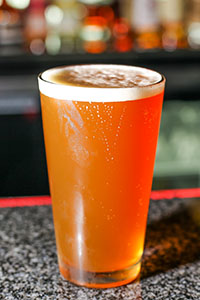 Indian Pale Ale (IPA)
This Indian Pale Ale (IPA) comes directly from Uncle Bear's Brewery in Phoenix and is on tap at Martini Bay. India pale ale is a hoppy beer style within the broader category of pale ale.
Martini Bay
1477 Queens Bay
Lake Havasu City, AZ
928.855.0888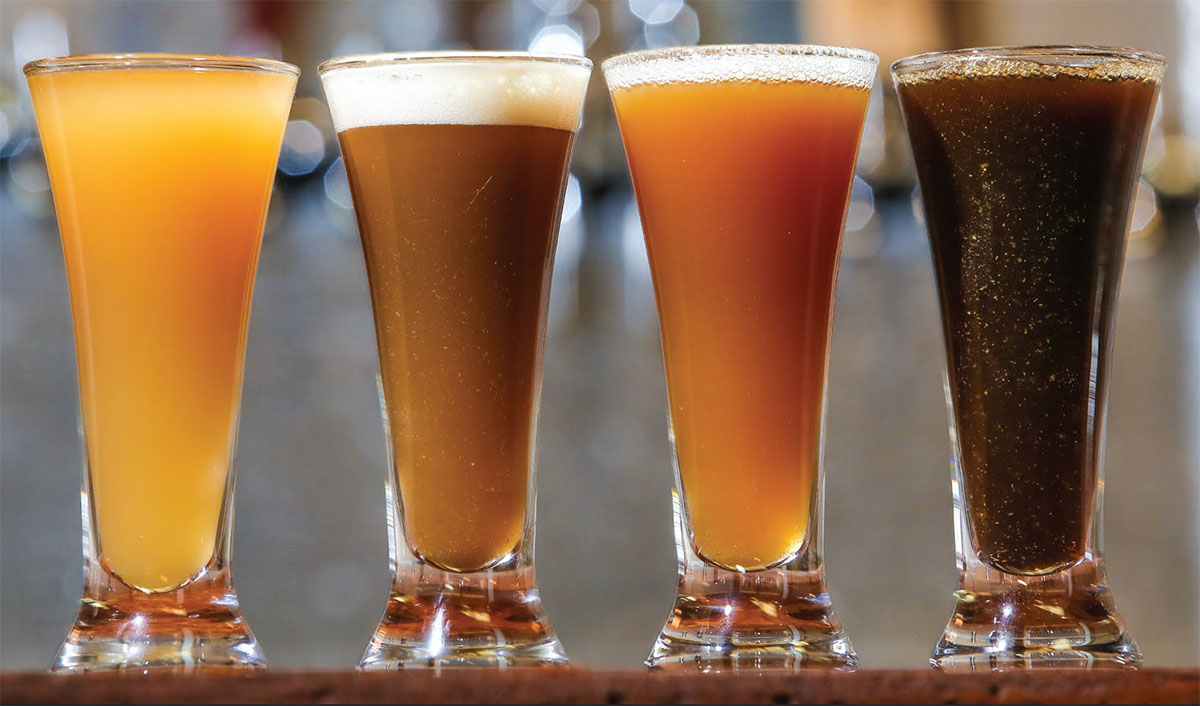 (L to Right) Mexican Midnight- An orange wheat ale similar to Blue Moon, Famously Unpretentious Ale (FUPA), Dry Green Flower, a house IPA, and Typical Hipster, a black rye IPA.
Scheduled for a Grand Opening on June 1, Outlaw Brewery is currently brewing up four distinct beers.
Outlaw Brewing
1600 w. Acoma Blvd. #47
Lake Havasu City, AZ
928.855.2337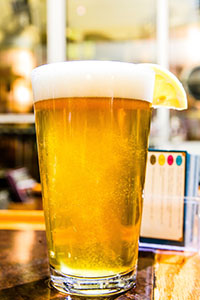 JennaGrace Hefeweizen 
Our most thirst quenching and refreshing beer.  An unfiltered blond wheat beer with clean hints of lemon. Our summertime specialty beer that is sure to cool the Havasu heat!  Belgian & French Style Bronze Medal Winner at the 1998 Great American Beer Festival.
Barley Brothers Restaurant & Brewery
1425 McCulloch Blvd.
Lake Havasu City, AZ
928.505.7837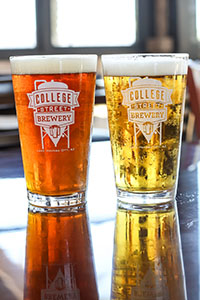 The Mariner IPA
The Mariner IPA is an American Double / Imperial IPA style beer brewed by College Street Brewhouse & Pub. Street Light is an American light style lager also brewed on location.
College Street Brew House
1940 College Dr.
Lake Havasu City, AZ
928.854.2739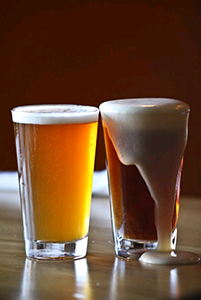 Wicked Raspberry Poison and Stout Choculalondie's
Specialty beers from the Black Bridge Brewery are on tap at Place to Be. Two favorites are the Wicked Raspberry Poison and Stout Chocula—a chocolate dry stout. The two beers can be mixed to form a raspberry chocolate stout—Dr. Frankenstout.
Place to Be Bistro
171 Swanson Ave.
Lake Havasu City, AZ
928.453.8339