"It has never been easier to receive a quality education right here in Lake Havasu," notes Laura Shuffler. Arizona State University Colleges at Lake Havasu City has been open since the fall of 2012 and interest in enrollment continues to grow, especially from California," explains Shuffler. The spring 2014 semester just wrapped up with a little over 100 students. "The diversity of students shows the demand for ASU in Havasu. Of the 100 students, half are freshman and half are transfer students."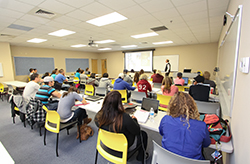 The fall semester, scheduled to start August 21st, has quite a number of applicants, close to 500 so far. Shuffler says that there's a long process between filling out an application and attending that school, "But interest is definitely on the increase." There are a lot of reasons for the interest in ASU. First, you become a part of the ASU family which means access to their extensive library of resources while being exposed to academic excellence. But, just as important to students is the small class sizes that allow for personalized attention from experienced faculty. It also helps when placing graduates into the workforce. Many of the students are hands on with the community through internships and research project, exposing them to local business leaders and the community. That's a big plus when it comes time to enter the workforce.
Another great example of flexibility is the adaptability of the curriculum at the Lake Havasu campus. Dr. Kerrie Anne Loyd, a Professor of Environmental Sciences at ASU Havasu feels that Lake Havasu provides the perfect environment for a Life Sciences program. Loyd moved here from Georgia in 2012 to teach at the University. "Dr. Young felt that Havasu would be the perfect location for young minds to pursue a degree in environmental sciences," notes Loyd. Since starting the program in 2012 they have been able to adapt the program to better suit the needs of the students. Loyd feels that the adaptability and small classroom sizes better prepares students for when they graduate. "With the different ecosystems, from the lake and river to the desert, this area is the perfect place to be hands-on with students in the field." Loyd is currently working on a study involving burrowing owls and involves many of her students with valuable field research experience.
The Lake Havasu campus offers a number of Bachelor degrees ranging from Business and Communications to Criminal Justice, Life Sciences, Organizational Leadership, Political Science, Psychology, and Sociology. All of these degrees have a number of practical applications in the workplace from private sector, research, and public service. As the campus continues to grow, the benefits that students receive while receiving a quality education will carry over to directly benefiting the community. ASU at Havasu is definitely a win-win situation for all involved.  If you've been thinking about a quality, affordable education, well now it's in your backyard. So dream it. Do it!
ASU Colleges Lake Havasu City
100 University Way
Lake havasu City, AZ
928.854.9707
www.havasu.asu.edu