Mexican food is considered a major food group in Lake Havasu, as evidenced by the number of fine Mexican dining establishments. And by far, the taco is the most in-demand item on the menu. They're easy to eat, can be held in your hand, and the variations of meats and toppings are endless. Each bite is a real crowd pleaser and everyone has their favorite. We're not talking cookie cutter, fast food tacos here, we're talking about specially crafted masterpieces that can serve as an appetizer or an entrée. Best of all, you can enjoy them for breakfast, lunch, or dinner. Here are a few of our favorites: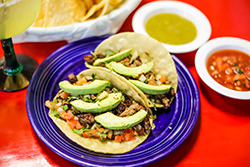 Carne Asada Tacos
Whether you have a strong desire for some sizzlin' steak or a tasty treat from the ocean's depths, these tacos have you covered. Start with some grilled-to-perfection steak, add tomato, cilantro, onions, and avocado, and you have a mouth-watering taco combination that is both filling and delicious. Add your own level of hot sauce to customize for a one-of-a-kind taste.
Bad Miguels
1841 N Kiowa Ave. #103
Lake Havasu City, AZ
928.680.0201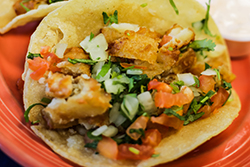 Fish Tacos
Not in the mood for asada today? No problem, sink your teeth into these delicious fish tacos made up of battered Alaskan Pollock in a taco shell (your choice—hard or soft), add a healthy dose of cilantro, onions, and tomatoes, and the special house sauce for a taco that is as yummy as the ocean is deep. While many claim the fish taco originated in California, native fisherman in Mexico were putting fish in their tacos centuries earlier.
Bad Miguels
1841 N Kiowa Ave. #103
Lake Havasu City, AZ
928.680.0201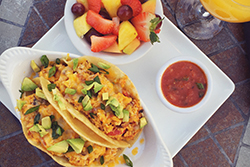 Makai Breakfast Tacos
Tacos aren't just for lunch and dinner anymore. At Makai's café, you'll find a superlative breakfast taco that will satisfy your craving for both Mexican food and breakfast. Picture two soft flower shells, brimming with sausage, bacon, and scrambled eggs. Top off with their signature Spanish sauce with mixed jack and cheddar cheese, plus breakfast potatoes, and you have a hearty, filling breakfast. The tacos are topped with green onions and avocado. Eat on the patio for a spectacular view of the London Bridge and Bridgewater Channel.
Makai Café
1425 McCulloch Blvd.
Lake Havasu City, AZ
928.505.2233
Javelina Tacos
Can't decide what type of taco you're craving? No problem! Try this combo-plate of shredded beef and shrimp and experience two very distinctively tasting tacos. Combine with lettuce, tomato, cilantro, and onion on a soft shell and you have a filling and healthy meal. Served with refried beans, rice, and Pico de Gallo. Yum! A perfect combination for either lunch or dinner. If you enjoy their fajitas, you'll love their tacos!
Javelina Cantina
1420 McCulloch Blvd N #106
Lake Havasu City, AZ
928.855.8226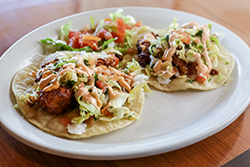 Blondie's Fish Tacos
Made with Dutch Harbor caught Cod (Dutch Harbor is the location for the hit series "Deadliest Catch"). Served on freshly made soft tortillas, the battered cod is combined with a rich, tasty Baja sauce that compliments the fish. Fresh cabbage, tomato and cilantro is added in generous amounts to produce a taco that will have your taste buds wanting to throw a fiesta!
Blondie's
3620 London Bridge Rd.
Lake Havasu City, AZ
928.466.9960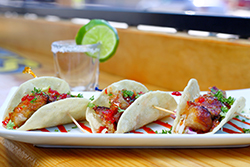 Korean Pork Belly Street Tacos
If you're looking for a unique, spicy taco patterned after Korean street tacos, you need to head to Jersey's Grill. They start with confit pork belly, sautéed in their house made Thai pepper sauce, and drizzled with Sriracha. Served in a warm corn tortilla with house-made citrus slaw, these tasty tacos will soon become your must-have taco. The flavor is hard to beat and sticks with you—reminding you that maybe just two of these isn't enough.
Jersey's Grill
2049 McCulloch Blvd. N.
Lake Havasu City, AZ
928.680.3663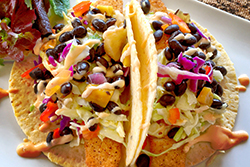 Caribbean Tacos
These tacos start with fish but take on a distinctively Caribbean flavor with a Caribbean black bean salsa. The fish is fried Mahi and is served up in two corn tortillas, topped with a crispy cactus coleslaw, and an island dressing. These tacos deliver two great tastes by taking the best of Mexico and the Caribbean and combining them for a flavorful taco that you just won't find anywhere else in Havasu. Stop by the Turtle Grille to take in the view—end up staying for the food!
Turtle Grill
1000 McCulloch Blvd N.
Lake Havasu City, AZ
928.855.2141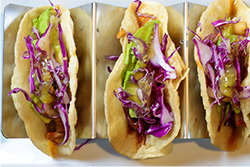 Tokyo Tacos
Looking for bold and unique? You've come to the right place! Premiering April 1, 2016 at ShoGun, these tacos will bring the mysterious flavors of the Far East to Lake Havasu. Starting with three deep-fried corn tortillas, all filled with sliced pork belly, then marinated in special spices, and grilled to mouth-watering perfection. Finished off with avocado and fresh, red cabbage. The real treat comes when you taste the Asian sweet and spicy sauce drizzled over them!
ShoGun Japanese Cuisine
90 Swanson Ave.
Lake Havasu City, AZ
928.680.6668