With beautiful weather, wide-open spaces, sunny skies, and an array of landscapes, Lake Havasu becomes the perfect year-round playground. Here are just a few activities designed to draw you outdoors for a fun day in the sun.
Paddleboarding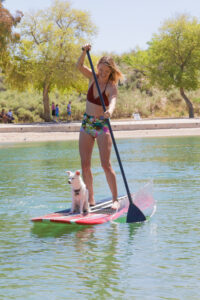 Take in all the scenery Havasu has to offer while skimming across the lake or channel. It's great exercise that allows you to enjoy the water at your own pace. Don't own a paddleboard? Rent one at Southwest Kayaks and explore this popular sport first-hand.
Off Roading
There are over 20 Arizona ATV certified trails snaking their way around the surrounding community of Lake Havasu. Whether you're a novice or an expert that knows the roads like the back of your hand, there's a trail with your name on it just waiting for adventure.
Lighthouses
Twenty-six miniature replicas of famous lighthouses were constructed on the shores of the lake, and they have become their own tourist attraction. The scaled-down replicas are functioning navigational aids built to the specifications of famous lighthouses on East Coast, West Coast, and Great Lakes. Most can be hiked to, while some are only accessible by boat.
Disc Golf
Frisbee or disc golf is just the right sport for you to enjoy the outdoors in a competitive, but relaxing way– and in Lake Havasu City you can play year-round. Best of all, it's free! The Grand Island Disc Golf Course is a nine-hole course located on the Island. Holes vary from short to long, with some dog legs and tree obstacles. Three different tee placements turn this 9-hole, 2,519-foot course into a 27-hole adventure.
Visit the London Bridge
The London Bridge is Arizona's second most-visited tourist attraction, behind the Grand Canyon. Purchased in 1968 by Robert McCulloch, it was dismantled piece by piece and then constructed in Lake Havasu. It opened in October of 1971. A series of stores and businesses line the channel in an area known as the English Village. When in Havasu, visiting and taking your picture by the London Bridge is a must!
Dirt Bike Riding
With its perfect weather and numerous trails around town, Lake Havasu is the perfect haven for dirt bike enthusiasts. SARA Park has numerous trails to ride, at all levels of difficulty. Take in the stunning desert terrains or make your way to a mountaintop where breathtaking views of the lake and city await. All ages are welcome to hit the trails, making this a fantastic outing full of adventure and exercise.
Golf
From Executive to Championship courses, you're guaranteed a spirited round of golf—no matter your skill level. From the amazing warm weather to the amazing views that surround you, you'll have a hard time keeping your eye on the ball. The towering palms, views of the lake, and surrounding mountains await as you play through on our lush greens. Havasu truly is a golfer's paradise!
Go Shooting 
If shooting is your thing, head out to SARA Park and take advantage of the range open to the public and under the auspices of the Lake Havasu City Sportsmans' Club, Inc. They also have an archery range if you prefer the bow. Shooters should bring their own equipment, ammunition, and targets.  Target stands are available. Eye and ear protection are required for shooters and spectators.