Ahhhh, our weather is getting cooler. This is when we can enjoy the outdoors and gardening activities. It doesn't matter whether you have a small patio, a balcony or a backyard; this time of year is Havasu at its best. Our garden centers are filled with all sorts of temptations, so let's take a look and see what we can plant and enjoy for months to come.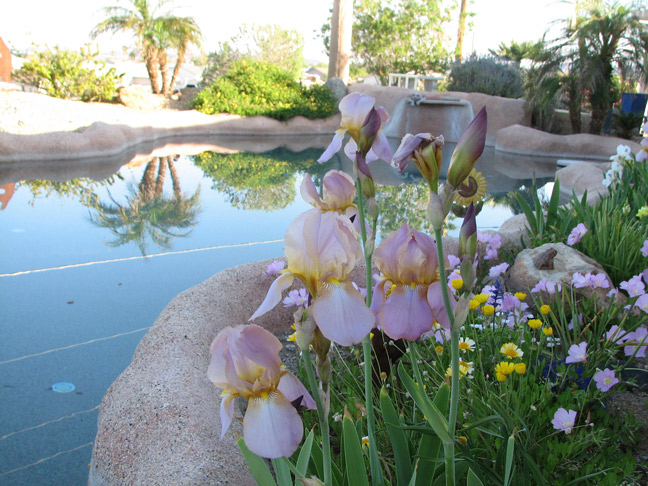 Now is bulb planting time. Daffodils, gladiolus, ranunculas, and irises (both Dutch and bearded) all do well here and come back every year. Follow the planting depth directions on the packaging when planting and sprinkle some bulb booster in the hole to help them along. When planting bearded irises it is recommended to place a thin layer of soil on top of the rhizomes (you usually leave them partially exposed); this is so that the rhizome is protected from our heat during our summer. All do well here in the ground as long as you add amended soil to the ground.
Beautiful flowers that are available to us now are Dianthus, Iceland poppies, larkspur, pansies, petunias, snapdragons, stock, geraniums, and sweet alyssum – just to mention a few. All of these flowers will last until May or June. Try picking up a six pack of them every week. In doing so, the plants are staggered and will extend your flowering season longer. All of these flowers do well in planters, pots, and the ground (with amended soil).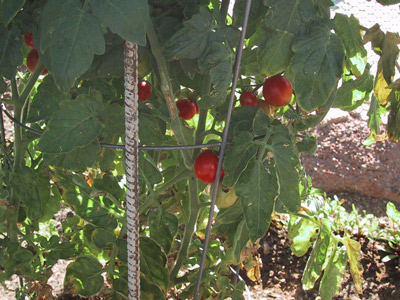 Vegetable gardens should be started now to ensure that by February you can be reaping the benefits of a harvest. Tomatoes, peppers, lettuce, carrots, radishes, beets and just about any other vegetable can all be planted now. Remember, vegetables need amended soil if planting in the ground. It is recommended that your vegetable garden be in a raised bed and no manure used as fertilizer. Reason: both our soil and water have to much alkaline in them. Adding manure will add more salt and burn the roots of your vegetables. I like to mix up vegetables, flowers, herbs and bulbs all together in my flower bed. It gives me color, scent, and food all at the same time and will last until summer.
If you purchase a bareroot plant, you need to get it in the ground as soon as possible. To keep it from drying out before planting, wrap it in damp burlap, newspaper or sawdust. Berries and roses are usually the first bare root plants in the nurseries, followed by fruit trees.
You should start backing off on watering now on your established plants. If you don't, all you will be doing is keeping the ground too wet for your plants to survive. This will attract unwanted critters that will be having Christmas dinner and a New Years party in your roots, and it will be spring until you see the damage that these parties have caused.
Remember, our water averaging for the sewer starts in November. If you have planted wildflower seeds where there is no irrigation, and we have no rain, you will need to give them some supplemental watering to keep them growing so that they will bloom in March/April.
One thing that you should hold off on is pruning. This is not the time to do major pruning. January and February are our months for doing this. Why? Not all of our plants, both native and non-native, are in complete dormancy until then. Remember, we are just now starting to cool off.
I hope you have found some planting ideas to enjoy. The next six months is time to enjoy our beautiful weather and all the activities that is happening in our city. Remember, the Master Gardeners have several workshops coming – along with the Urban Home Horticulture Course in February – check your local media for dates and times.
Dottie Holman is a Lake Havasu City Master Gardener. For details, call the Lake Havasu Master Gardeners hotline at 927-753-3788, email mohavece@calsarizona.edu or see them the first Tuesday of the month from 11 am-1 pm at the Mohave County Library.