With beautiful weather, clear skies, very little light pollution and an amazing, unobstructed view, Havasu is an amazing place for stargazing—and it's something that you can do right from your own backyard. Gaze into the center of our Milky Way galaxy, check out some of the brightest planets, and follow the constellations as they track through the sky.
If you want to learn about the night sky, download Terminal Eleven's SkyView app. This handy app lets you identify everything in the night sky by pointing your phone towards any spot—any night of the year! It's a great guide if you're unfamiliar with the anatomy of our starry skies.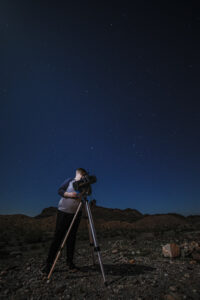 If the stargazing bug bites hard, today's telescopes are relatively inexpensive and have great light gathering abilities, allowing one to see the rings of Saturn and Jupiter's giant red spot, even with the most basic of telescopes.
As far as the brightest planets go, Venus dominates the landscape. Through May 24 it appears as a bright light in the west just after sunset. After June 13 it will appear in the eastern sky before sunrise. Jupiter is also quite bright appearing in the morning sky through July 13. After that it will be visible at night. Mars is also visible, but not as bright as Venus or Jupiter. It can be found low in the southeastern skies during predawn hours.
In addition to the circumpolar constellations – Cassiopeia, Cepheus, Draco, Ursa Major and Ursa Minor, there are also three major constellations: Sagittarius, Scorpius, and Hercules. Ursa Major and Minor are commonly referred to as the little and big dipper in the north. Scorpius is easily recognizable in the south because once you locate it, it truly does look like a scorpion. The best way to find unfamiliar constellations is to use a sky chart such as the app on your phone. The more time you spend exploring the night sky, the more you will become familiar with them.
Who hasn't marveled at looking up at the night sky, only to see a random meteor streak by? Called sporadic meteors, these tiny bits of cosmic dust come into our atmosphere at amazing speeds and quickly burn up, creating the streak of lights in the sky. They can appear at any time in any part of the sky. Many meteor showers are associated with comets and can be predicted for peak viewing times of meteors. The showers are named after the constellations that they appear to originate from. The Delta Aquariid meteor shower is scheduled for July 27-30 with 25-30 meteors visible per hour. The beauty of tracking meteors is that the best way to view them is with the naked eye because you have the widest field of view this way.
If you're looking for something to do and are bored being stuck in your home, getting out and viewing the amazing night sky is a great way to escape and to peer into our universe!
Lake Havasu Astronomy Club       
If you would like more information about telescopes or astronomy, contact the Lake Havasu Astronomy Club. You can find them online at www.lakehavasuastronomy.org.