Take the Plunge!
So, it's crazy hot outside, and you want to get out of the house. You've already seen the new releases at the movies and it's too early to hit the bars. What to do? Why, hit the lake of course… or a cool pool! Check out these fantastic spots to cool down and catch some rays.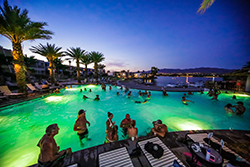 The Nautical's infinite pool is a majestic and relaxing way to cool down. The infinite edge blends seamlessly with the beautiful blue skies and clear water of the lake to create an amazing visual effect for any visitor. Sit back in one of the 150 lounge chairs available and order a drink from the Caribbean-themed Palapa bar and grill.
Kokomos is the ultimate pool party destination. Relax by the pool while you have a drink, take a dip with your friends while listening to great music long into the night, or engage in a game of water volleyball with your friends. However you decide to spend your time there, you're guaranteed to have a splash!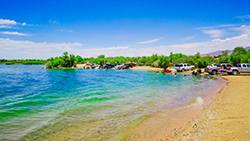 Body Beach is a great place to relax and enjoy the beautiful rays. The ½ mile long stretch offers the opportunity to get wet as well as check out the various watercrafts that frequent the area. It's also pet friendly, so your four-legged friends can get a little sunshine and exercise as well.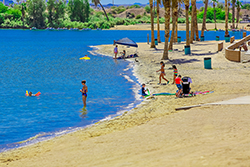 The beautiful blue water and clean sandy beaches make Rotary Park the perfect escape on any day. As you sit under your umbrella or shaded by the palm trees, you just might forget you're in the desert. And, as a bonus, if the kids get bored, there are plenty of playgrounds around the park to keep them occupied.
London Bridge Beach is the perfect place for friends, family, and furry side-kicks. With a buoyed-in swimming area, you won't have to worry about the kids going too far out. There are also playgrounds, a dog park, and covered picnic areas. So, even if you get tired of being in the water, there's still plenty to keep everyone occupied.