Palm branches blowing in the wind add a tropical tone to an arid desert landscape.  Of the many plants that can grow here, palm trees are a definite plus.  The large growing palms provide shade, shelter, and a strong accent to the skyline, while smaller palms planted around pool areas create an oasis feeling.  They can be planted in straight rows along driveways or planted in groups with varying heights to make a subtle statement.
However you plant them, one important thing to remember in selecting a palm is to choose a species that will not interfere with your home, pool, or walkway once it is mature.  Otherwise, that pretty little palm that you brought home from the nursery in a one-gallon container may one day grow into a monster that will overpower the area it was planted in.
Palm trees can be planted throughout the year here, but the best time to plant them is from April through September, when the root growth is most active.  Why?  Because palms need warmth to allow the plants adequate time to become established before winter.  Palm trees do not like cold, especially when young.  A freeze will injure or kill a palm tree.
Palm trees prefer well-drained soil.  Dig the planting hole only as deep as the root ball, and twice as wide, so the roots can spread out.  The palm should sit just at or slightly below ground level.  When replacing the soil, add a 0-45-0 fertilizer to stimulate the root growth. Leaves of large palms are tied together over the heart of the palm to protect it until established.
What does established mean?  A palm is established when green foliage is bulging out from the dead fronds.  When this happens, remove the ties but do not cut the dead fronds for at least a month.  One important factor regarding palm trees is that they do require a moderate amount of water in order to keep their foliage lush.  Once the palm is established, water may be backed off.
Palms are distinguished into two groups on the basis of leaf form.  Palms with pinnate leaves are called "feather" palms and those with palmate leaves are called "fan" palms.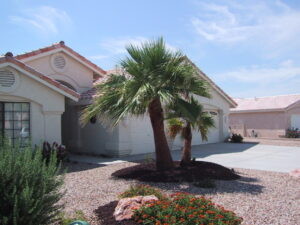 Feather Palms for Our Area
Canary Island Date Palm (phoenix canariensis)
Mature height 40-50 feet.  Requires moderate to ample water although will withstand drought.  This palm is called the pineapple palm due to the trunk of young trees are pineapple shaped until mature.  This palm requires maintenance and grooming to look good.
Date Palm (phoenix dactylifera)
Mature height 50-60 feet.  Requires moderate to deep irrigation on a regular basis.  The leaves are a gray-green and have a more graceful appearance then the Canary Island Date Palm in the landscape.
Pygmy Date Palm (phoenix roebelini)
Mature height 6-8 feet. Sensitive to cold. Requires fertile, well-drained soil and plenty of moisture.  Leaves are dark green and finely-cut.  Pygmy Date Palms are slow growing and are great for around pools.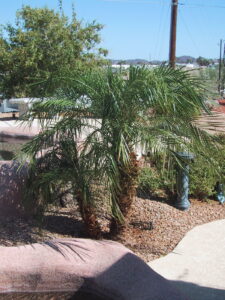 Fan Palms for Our Area
Mediterranean Fan Palm (chamaerops humilis)
Mature height 5-10 feet.  Slow growing and does best in good soil with plenty of water.  It is a multiple-trunk palm that requires pruning to look its best.  Another good one for around pools.
Mexican Blue Palm (erythea armata)
Mature height 25-35 feet.  Slow growing palm that tolerates heat, cold and wind.  Known for its waxy, silver-blue foliage.
Windmill Palm (trachycarpus fortune)
Mature height 15-25 feet.  Needs moderate to ample water.  Slow growing palm that tolerates heat and cold.  Dark green foliage that are windmill-like and fan shaped.  Good for pool areas and entryways.
Fertilizing and Pruning
Palms love potassium.  That's why it is important to feed them the proper fertilizer.  Be sure to purchase "palm food." The bag will usually read 13-3-13 (high in nitrogen and potassium).  The soil needs to be moist prior to spreading the palm food and water in well after applying.  When pruning, you should only trim the dead fronds.  A good rule of thumb is to trim no more than a 45 degree angle.  The lower fronds protect the "heart" of the palm, and over pruning can expose the heart and cause stress on the palm.
Palms are magical; they don't mind Christmas lights going up their trunks or birds enjoying their fruit.  They make us feel cool in the summer and warm in the winter… they are a definite asset to any landscape.
Dottie Holman is a Lake Havasu City Master Gardener.  For details, call the Lake Havasu Master Gardeners hotline at 928-753-3788, email mohavece@cals.arizona.edu or see them the first Tuesday of the month from 11am-1pm at the Mohave County Library.