There's No Wrong Way to Make a Margarita
Shaken, stirred, or blended, this concoction of tequila, lime or lemon juice, and an orange-flavored liqueur, usually served in a salt-rimmed glass, is the perfect expression of summer coolness.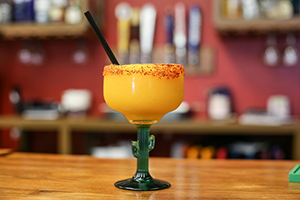 This wonderful cocktail is a Mango Margarita and is the perfect blend of Tajin and Partida Blanco tequila. A perfect complement to a fine Mexican meal.
Bad Miguels
1841 Kiowa Blvd.
Lake Havasu City, AZ
928.680.0201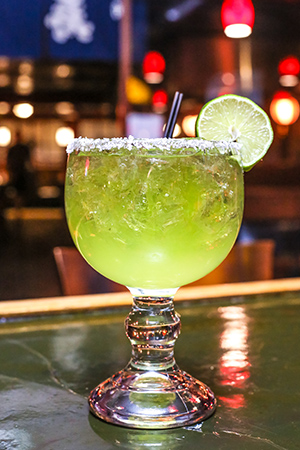 This simple drink is perfect for Happy Hour—or as a great choice to accompany your meal. Triple Sec, tequila, and fruit juice served in a salted rim.
Shogun
90 Swanson Ave.
Lake Havasu City, AZ
928.680.6668
www.shogunlakehavasu.com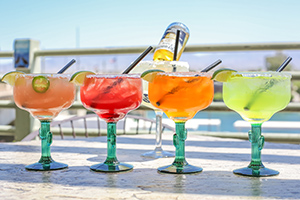 Jalapeño Prickly Pear Margarita – House-infused jalapeno tequila combined with a prickly pear sauce.
Pomegranate Margarita – Hornitas Blanco tequila, la pinta pomegranate liqueur.
Or-G Margarita – Case Noble tequila and Or-G papaya mango liqueur.
Midori Margarita – Olmeca altos silver tequila, Midori melon liqueur.
Corona-rita – This house specialty combines a House Margarita with a Mexican favorite—Corona.
Javelina Cantina
1420 McCulloch Blvd N #106
Lake Havasu City, AZ
928.855.8226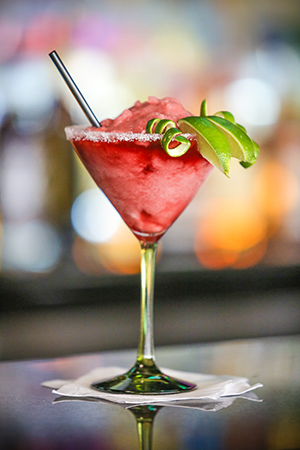 This Huckleberry Marga-tini starts with Natural Huckleberry Flavoring, 1800 Silver tequila, Cointreau, and fresh squeezed lemon and lime. A salt and sugar rim garnished with lime twists finishes off the drink.
Martini Bay
1477 Queens Bay
928.855.0888
www.martinibay.com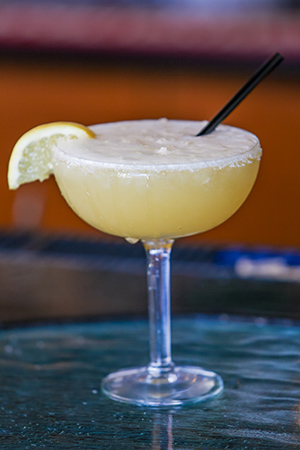 The Lotz Margarita is the perfect blend of house tequila, Triple sec, a splash of orange juice, and sweet and sour mix. Shaken not stirred, of course.
Schlotzsky's
2144 McCulloch Blvd.
Lake Havasu City, AZ
928.854.2144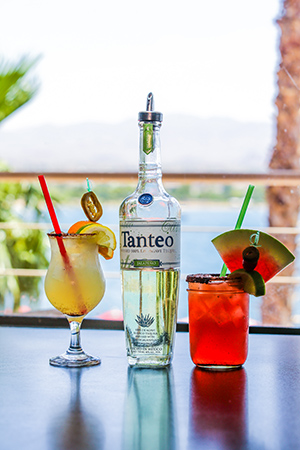 The Boca En Fuego Margarita blends Tanteo jalapeno-infused blue agave tequila, sweet and sour mix, Triple sec, and fresh lime juice with a chili salt rim.
Hornitos Plata Tequila is made with watermelon schnapps, sweet and sour mix with fresh lime juice, and fresh watermelon with a chili salt rim: enjoy the view of the lake while sipping on this refreshingly different margarita.
Turtle Grill
1000 McCulloch Blvd N.
Lake Havasu City, AZ
928.855.2141
Margarita History
The origin of the margarita is convoluted. One of the earliest stories is of the margarita being invented in 1938 by Carlos "Danny" Herrera at his restaurant Rancho La Gloria, located between
Tijuana and Rosarito, Mexico.
Another accepted origin story of the margarita is that it was invented in October 1941, at Hussong's Cantina in Ensenada, Mexico. The cocktail consisted of equal parts of tequila, Mexican orange liqueur, Naranja, and lime, shaken and served over ice in a salt-rimmed glass.
Jose Cuervo ran ad campaigns for the margarita in 1945, with the slogan, "Margarita: It's more than a girl's name." According to Jose Cuervo, the cocktail was invented in 1938 by a bartender in honor of Mexican showgirl Rita de la Rosa.
Must Try!
Esquire magazine named the Margarita as their Drink of the Month in their December, 1953 issue. The recipe was very basic:
1oz. Tequila
Dash of Triple Sec
Juice of 1/2 lime or lemon
Pour over crushed ice, stir. Rub the rim of a stem glass with rind of lemon or lime, spin in salt—pour, and sip.
A Frozen Treat:
Margaritas can be served shaken like other cocktails, but they can also be served as a blended ice slush, known as a frozen margarita. The ingredients can be added to ice and blended in large quantities to serve a large group. The first frozen margarita machine was invented on May 11, 1971 by Dallas restaurateur Mariano Martinez. The machine was originally a soft-serve ice cream machine and now sits in the Smithsonian National Museum of History.