Many of our local physicians provide amazing services for the residents of Mohave County. But what you may not know is that several of these dedicated professionals donate their time and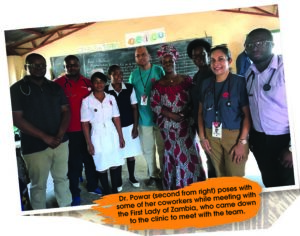 expertise to help deliver medical support to poverty stricken areas of the world. One such doctor locally is Doctor Mandeep Powar who traveled to Zambia, Africa to work in a health clinic, thanks to the California based organization Christian Brigades. "I first heard of Christian Brigades through a friend who is one of their medical directors. My daughter and her friend were also very keen on going as volunteers and they needed doctors," notes Dr. Powar. The government of Zambia had identified a needy area in the Petauke District by the Mozambique border where they have
very limited health care.
Christian Brigades believes in leaving a legacy in the countries it works in whether it may be the empowerment of health providers, or the construction of a medical clinic. Each year, over 3,000 patients are attended to, receiving six months' worth of medication, hygiene supplies, and health education material through the support of volunteer efforts and local supporters.