Everyone knows the tale of the English nobleman, the Earl of Sandwich, as being credited as the creator of the sandwich. Described as a "lite meal" by the Oxford English Dictionary, some sandwiches are anything but that. The tasty meals can be towering accomplishments of greatness with meat, condiments, and various veggies and cheeses all packed between two slices (or more) of any number of scrumptious breads.
Local chefs have used every ingredient under the Havasu sun to bring us amazing sandwiches that will taste as incredible as their appearance. Get ready to sink your teeth into these mouth-watering delights…
Deluxe Original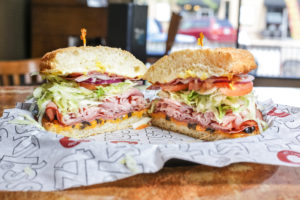 Lean smoked ham, Genoa, cotto salamis, melted cheddar, mozzarella, and Parmesan layered with black olives, red onion, lettuce, tomato, mustard, and Schlotzsky's signature dressing on a toasted
Sourdough bun.
Schlotzsky's
928.854.2144
2144 McCulloch Blvd.
Grande Club
House-cured bacon, Boar's Head turkey, lettuce, tomato, cheddar, chipotle, walnut pesto mayo, Swiss cheese, and avocado.
College Street
928.854.2739
1940 College Dr.
 Custom Deli Sandwich
Build your own sandwich just the way you like it with a variety of meat, cheese, and several fresh toppings.
Campbell Cove
928.854.6608
1521 Industrial Blvd.
Total Pig
Smoked pork, ham, bacon, tomato, creamy slaw, garlic aioli on a hoagie.
Rebel BBQ
928.764.5550
25 Acoma Blvd.
Nauti Club
Turkey, ham, Swiss cheese, bacon, lettuce, tomato, and mayo on sourdough toast.
Turtle Grille
928.855.2141
1000 N. McCulloch Blvd.
He-Man
Ham, capicola, pastrami, bologna, cotto salami, American and provolone cheese with your choice of fresh veggies.
Ed's Deli
928.855.3283
2025 McCulloch Blvd.