We don't exactly live next to the ocean, but that doesn't mean that you can't sample mouthwatering meals featuring the best catches from across the globe. Maybe a Chilean seabass catches your fancy, or a mix of seafood tastes that remind you of the time you spent in San Francisco. There are a varied number of seafood dishes delectably prepared and waiting for your enjoyment at a number of fine dining establishments around town. Paired with a white wine, or a softer red like Pinot Noir, and your dining experience can be unforgettable, just like it would be if you were to visit a dungeness crab San Francisco fresh sea food restaurant.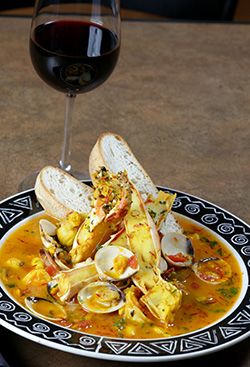 Cioppino
If you're a fan of a variety of seafood you won't want to miss out on the wonderful fish stew that has its origin in the San Francisco Bay area. The cornucopia of seafood combines clams, lobster, crab, and shrimp. Add in some peppers and a saffron broth and you have a great looking—and tasting—seafood medley that will serve as the perfect meal. Served with ciabatta bread and a wine pairing of your choice.
ChaBones Steakhouse and Tapas Bar
112 London Bridge Road
928.854.5554
ww.chabones.com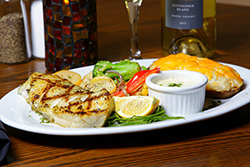 Chilean seabass
There's seabass and then there's Chilean seabass! Famous for their steaks, Montana's also has a reputation for serving fresh fish prepared to perfection. If you enjoy a good seabass, you can't go wrong with this lightly grilled fish that is seasoned to perfection with lemon pepper. A blend of mixed vegetables keeps this meal light, nutritious, and delicious.
Montana Steak House
3301 Maricopa Ave.
Lake Havasu City, AZ
928.855.3736
www.MontanaSteakHouseLHC.com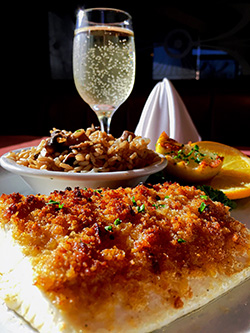 Halibut
Halibut is a favorite of many "fishionados," especially when it is baked to perfection with a Dijon crust. The combination of melt in your mouth fish and crunchy crust provides an exciting and memorable taste that you will want to savor with each bite. Served with a side of rice pilaf, this dish is best when paired with a Jacobs Creek Moscato.
Krystal's Steakhouse & Seafood
460 El Camino Way
Lake Havasu City, AZ
928.453.2999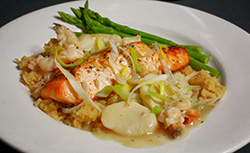 Atlantic Salmon
You might want to start your evening out with a house Risotto, followed by this combo plate of amazing seafood—a lightly seasoned Atlantic salmon with asparagus and medallion scallions, dished up with rice, and served with a light, creamy sauce. The combination of salmon and scallions make this dish an excellent choice when you can't decide on any one particular fish.
Shugrue's Restaurant
Lake Havasu City, AZ
928.453.1400
Shugrues.com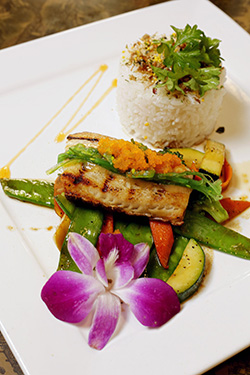 Mahi Mahi
Go nuts with this Peacan crusted Mahi Mahi with a citrusy Beurre Blanc sauce. Served with Shogun's special mix of Asian vegetables and grilled asparagus. Choose from two very distinctly flavored side dishes of Osaka Rice or the Wasabi whipped Yukon gold potatoes that add a bit of a kick as well as an exotic flavor.
ShoGun Japanese Cuisine
90 Swanson Ave.
928.680.6668
www.shogunlakehavasu.com