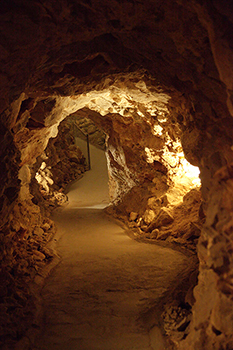 If you're looking for an entirely different way to get your kicks on Route 66, a leisurely day trip to Peach Springs and the Grand Canyon Caverns is for you. The drive is a beautiful, back country route that harkens back to the days when Route 66 was in its heyday. The area is also well known for the vastness of the wildlife. While you probably won't see all of these wild critters on your drive, you might be lucky enough to spot a few of them, including mountain lions, bobcats, falcons, owls, eagles, hawks, antelopes, and elk. As you drive past Peach Springs, you'll find an unexpected gem in the Grand Canyon Caverns.
The cavern is one of the largest dry caverns in the United States and is located 200-300 feet below the surface, and is only accessible via elevator. Cavern tours range from easily accessible walkways with handrails, to Explorer Tours that offer more off the beaten path, adventure-oriented tours. Either way, the wonders of an underground cavern are spectacular from a visual as well as geologic view.
Located on 800 acres on a high plateau, the land is protected by a trust. The property also features a motel, dinner, gift shop, and classic Route 66 gas station. The gift shop has some wonderful souvenirs of not only the caverns, but also of the historic Route 66. The property also has its own air strip and RV campground complete with full hookups.
Two unique attractions are the Cavern Suite and Grotto restaurant. The Cavern Suite is an actual underground hotel room that you can spend the night in. This is the largest, deepest, darkest, quietest motel room in the world. Imagine spending the night 220 feet below ground with a constant temperature, and zero humidity. Nothing lives in these caverns—no bats, flies—nothing! Your night will be spent in complete solitude in a room that is 200 feet wide, 400 feet long and a 70-foot ceiling—a room that took over 65 million years to form. If you can spend the night, book this unique room in advance for a truly once-in-a-lifetime experience. If time is limited, plan to at least dine at the Grotto Restaurant. It's a truly unique dining experience located 200 feet underground that you will long remember.
A Canyon Discovered
Like many great discoveries that are often stumbled upon, the Grand Canyon Caverns are one of those examples. Walter Peck, a local woodcutter, tripped over a small hole covering the cavern entrance on his way to a poker game with friends. This was back in 1927. The very next day, Walter, along with friends from the poker game, used ropes and lanterns to lower a friend into the darkness. What they found was astounding!
Lowered by rope to a depth of 150 feet, the explorer discovered a vast cavern, along with two skeletons and horse saddle on a ledge at the 50-ft. level. The group also struck it rich, discovering gold deposits deep in the cavern—or so they thought! Walter purchased the mine while thoughts of a major gold rush danced through his mind. Those thoughts were soon dashed as the assayer's report came back, noting that there was no gold in the samples—just some iron oxide—or rust.
Well, stories of the skeletal remains were making headlines, being blown out of proportion, and being reported as the remains of "cavemen." Hoping to capitalize on the notoriety of the cavern, Walter started charging 25 cents to be lowered into it. During the Great Depression, 1935 to be specific, the Civilian Conservation Corps was used to build stairs into the cavern, allowing more than one person into the caves at any given time. The price of admission had risen to 50 cents. In 1962, a new shaft was dug out to a depth of 210 feet, and a modern elevator was installed. The original entrance to the cavern was sealed up in favor of the more easily accessible, modern entrance.
The Grand Canyon Caverns have been conducting tours for over 80 years. The original gravel road that made up Route 66 was located right next to the entrance of the cavern in 1928 so that travelers could easily stop off and enjoy the deep wonders. Sure, there are many great stories and places to visit during your travels on the Mother road, but few are as unique as these underground caverns located just beneath the historic Route 66–all easily accessible from Lake Havasu in an easy, one-day road trip!
Getting There
Grand Canyon Caverns & Inn
115 Mile Marker AZ-66, Peach Springs, AZ 86434
From Lake Havasu: Take SR 95 North to I-40 East to Kingman. Exit Interstate 40 at the Route 66 exit (Andy Devine Blvd.). Take Rt. 66 northeast about 65 miles. A few miles past Peach Springs and you're at the Grand Canyon Caverns & Inn.