Whether they have been married one year or 50 years, the following couples all have some wonderful qualities in common. And while the honeymoon may be over for some of them, their love and commitment is thriving. These Havasu lovebirds share their secrets to a happy marriage and what it really takes to have longevity…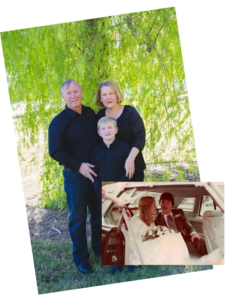 Don & Clark Varner
Married in Dearborn, Michigan, Don and Cindy Varner tied the knot back on October 20, 1979, with 150 in attendance. They currently reside in Havasu after a move from Phoenix back in 2004.
​Don met Cindy in September of 1978 and they were engaged 10 months later at an A&W Root Beer, of all places. "It was near Cindy's home," notes Don. After almost 40 years of marriage Don explains, "We always find a way to meet in the middle on our differences. Because of that, we are happier than we have ever been and closer than ever."
​"Even though he drives me crazy sometimes, I love his compassion and extreme interest in his ever-changing mind. And he loves his children more than himself," says Cindy. Don elaborates, "Her love and loyalty to me and our children, and to God, has always kept me deeply in love with her."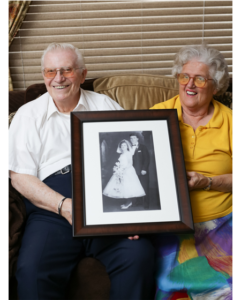 Bill & Alice Johansen
Married 56 years ago, in Brooklyn, New York on April 1, 1961, Bill and Alice Johansen are native New Yorkers. Both were born and raised in Brooklyn where Bill was employed as a postal worker for 31 years. Alice commuted to Manhattan where she worked as a data entry specialist.
​Both still remembered the night they met, August 28, 1960, at the Night Cap, a night club on 8th Avenue in Brooklyn. Bill recalls those days fondly, "Everyone loved to go out and enjoyed dancing. Waltzes and the fox trot were popular dances back then."
​Alice notes that their wedding ceremony was just family, "Just a small group of 12 or so people." Bill looks at marriage as serious business, "When you say 'I do' you are making a solemn promise." That promise has lasted 56 years. After a lifetime together in Brooklyn, the couple moved to Havasu to retire back in 1993. Bill says, "We've learned to work together as a unit, as a husband and wife. When we make a major purchase, we discuss it, we're in this marriage together and equally."
​Alice agrees, and feels that humor has played a big part in keeping their marriage strong, "Bill has a great sense of humor, he's like a comedian, and he has a great sense of timing." Bill smiles and just says that Alice is good about laughing at his jokes. "Bill talks all the time, but that's because he's a good communicator."
​Bill and Alice still enjoy the things they enjoyed when they were dating. "We enjoy each other's company and we still enjoy dancing and going to the movies, just like when we were young," explains Alice.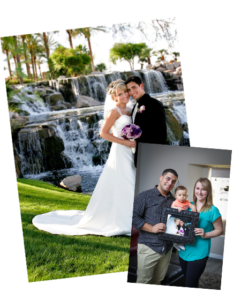 Jonathan & Ashlee Douek
Ashlee was born and raised in Michigan and moved to Lake Havasu with her family at an early age (her parents are Don and Cindy Varner). Jonathan was raised in Florida and moved with family to Phoenix in 2012 at the age of 17. They were married in Surprise, Arizona on May 21, 2011, with 175 people in attendance.
How they met is a true romance story…
"I was attending a wedding and it just so happened that Ashlee, whom I hadn't yet met, was also at the wedding," explains Jonathan. "I had been taking dance lessons, so I decided to ask the prettiest girl to dance. She was very shy, so she told herself she would dance with the first guy to ask her. After a few quick steps, we were swing dancing. I ended with a perfectly timed dip and everyone clapped for us. At the end of the dance we shook hands, thanked each other and walked away, not even knowing each other's names. I did tell my grandmother that night that maybe I'll move to Arizona one day and marry this girl."
A year later, Jonathan and his family moved to Surprise. As time went by, Jonathan ran into Ashlee again at a gathering. They kept in touch (Ashlee was in Havasu, he was in Surprise). "I eventually moved to Lake Havasu and when Ashlee turned 18 we started dating and ended up getting married. Of course, we had to swing dance at our wedding! We bought our first house last year, we now have an 8-month old child, and we are both working new jobs." Ashlee works as a nurse and Jonathan is a real estate agent.
Ashlee says, "Jonathan calms me when I'm stresses out. And I love his consistent jovial personality." Jonathan feels that Ashlee is caring, kind, and sweet, "not only to me, but to our son and everyone around her. It's really a quality that is hard to come by these days and she definitely embodies it."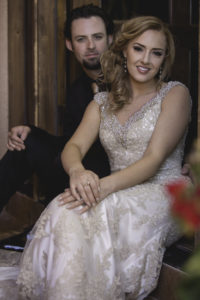 Michael & Nicole Burnett
Tying the knot a year ago on April 16, 2017, Nichole notes that their honeymoon phase hasn't faded yet. Married at Havasu Springs Resort with 225 guest in attendance, Michael and Nichole have known each other since Nichole was in high school. Both moved here from California with their families at an early age, and both attended Lake Havasu High School, but it wasn't until years after high school that the couple connected.
"I was good friends with Michael's younger sister Danielle," notes Nichole. "I was bartending in town when Michael walked in with his sister as his wing woman." Danielle invited Nichole over to have some drinks and hang out by the fire… Michael and Nichole have been together ever since. After dating for two years, they were engaged in September of 2014.
When asked what contributes to a successful marriage, they both agree, "We're firm believers in honesty and staying true to ourselves." Nichole states, "We embrace our differences and are constantly self-reflecting on how we can become better individuals at home, in our relationship, in our professional lives, and in the community. Communication is such an important aspect in our relationship – we are each other's #1 confidant day in and day out. These priorities should never change and hopefully only grow stronger over time."
When discussing each other's qualities, Michael shares, "I love her drive, her motivation, and that she is passionate about everything she does." Nichole mentions that she loves Michael's sense of passion for life, "Not to mention his uncanny ability to quote hundreds of movies and make me laugh–even if I don't know what movies they're from."