There's nothing better than a finely crafted burger paired with an ice cold brewski.  A hamburger is just a hamburger, but when you carefully craft it with a combo of veggies, condiments, and other flavorful and fanciful toppings, you have a work of art that will make your mouth water from that very first taste to the very last bite. Top it off with a freshly grilled specialty bun and you'll have a masterpiece of a meal.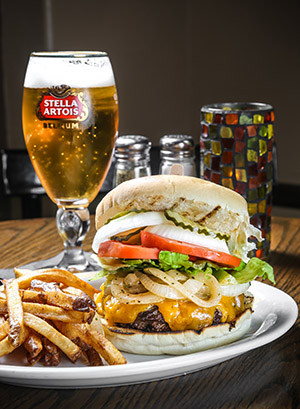 Montana Steak House
Starting with quality beef will make or break a burger. Montana Steak House starts with ½lb house ground beef, adds cheddar cheese, grilled onions, lettuce, tomato, pickles, and tops it with a freshly baked bun (lightly toasted of course).
Wash it down with a Stella Artois-A classic pilsner Belgian lager; smooth with hop characteristics.
Montana Steak House
3301 Maricopa Ave.
Lake Havasu City, AZ
928.855.3736
MontanaSteakHouseLHC.com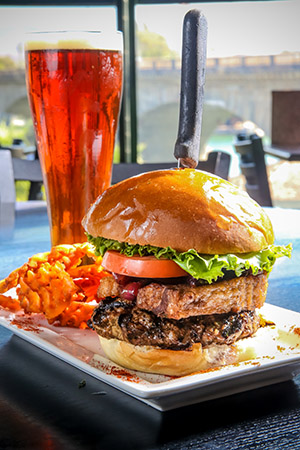 Barley Brothers
Barley Bros. calls this their Hella Bacon Burger, and it combines 8oz choice ground beef and house-made pork belly bacon on their fresh baked Brioche Bun. The French bread bun (with a high butter and egg content) gives the bread a nice, tender crumb top. The burger itself is topped with an out-of-this-world Chili mayo, lettuce, and tomato.
Pair it with a Freedom Bridge Amber Ale-An amber colored, medium bodied German Altbier with hints of toffee and caramel.
Barley Bros Restaurant and Brewery  
1425 McCulloch Blvd N.
Lake Havasu City, AZ
928.505.7837
barleybrothers.com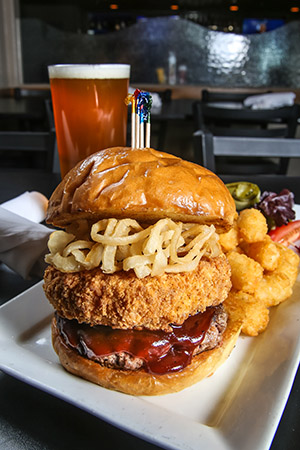 Tavern 95
This oversized burger is a classic Tavern 95 BBQ burger topped with a fried Mac Patty and topped with a tangy, rich BBQ sauce and crispy onions. Served with tater tots. A unique taste that will surely become a hallmark for them.
Try a house specialty beer: Barley Brothers Big Horn IPA-Classic English India pale ale. This one is a copper colored medium bodied ale. Packed with a huge hoppy flavor. 
Tavern 95  
3453 Maricopa Ave
Lake Havasu City, AZ
928.566.4869
tavern95lhc.com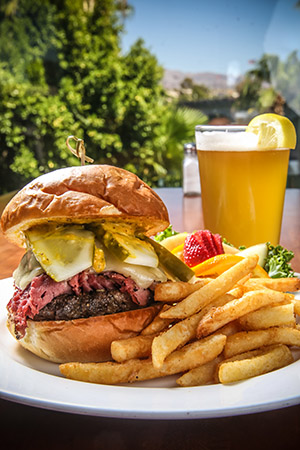 Shugrue's
Find your inner cowpoke with this Cowboy Burger at Shugrue's. A grilled, 1/3 lb chuck patty topped with all-natural grilled pastrami served on a grilled Brioche bun is just the start. Topped with stout onions, Swiss cheese, and sweet & tangy mustard. Served with fries.
Another Barley Bros. favorite-Jenna Grace Hefeweizen-A thirst quenching, refreshing beer. An unfiltered blond wheat beer with a clean hint of lemon. A summertime specialty beer that hits the spot in the heat of Havasu.
Shugrue's Restaurant and Brewery  
1425 McCulloch Blvd
Lake Havasu City, AZ
928.453.1400
shugrueslakehavasu.com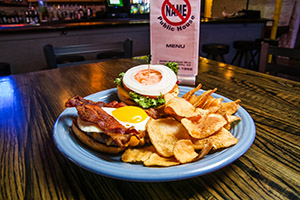 No Name Public House
Can't decide if you want a burger or breakfast? Well now you don't have to make that choice-you can have both at No Name Public House! This meal starts out with a traditional cheeseburger, cooked to perfection with cheddar cheese-and then adds a full breakfast. A fried egg and bacon make this a protein-packed meal. Add onion, lettuce and tomato, top with a grilled bun, and you'll have a meal that will fill you up clear to supper.  Served with house potato chips.
Wash it all down with one of their cold brews for a truly unforgettable meal.
No Name Public House 
2903 McCulloch Blvd
Lake Havasu City, AZ
928.302.1955